On the main island of Honshu lies the prefecture of Hyogo. Just to the west of Osaka and Kyoto you'll find the harbour city of Kobe.
Kobe nestles between the Inland Sea and Mt. Rokko. Behind Mt. Rokko lies the ancient onsen resort of Arima.

A Luxury Spa Day at Arima Onsen (That Won't Break The Bank)
By Rob Dyer
Dating Back to The 7th Century
It's one of Japan's most popular onsen, dating back to at least the 7th century, and has a reputation as being one of the more luxurious and expensive resort towns in Japan. However, it is possible to indulge yourself for a day here – without breaking the bank.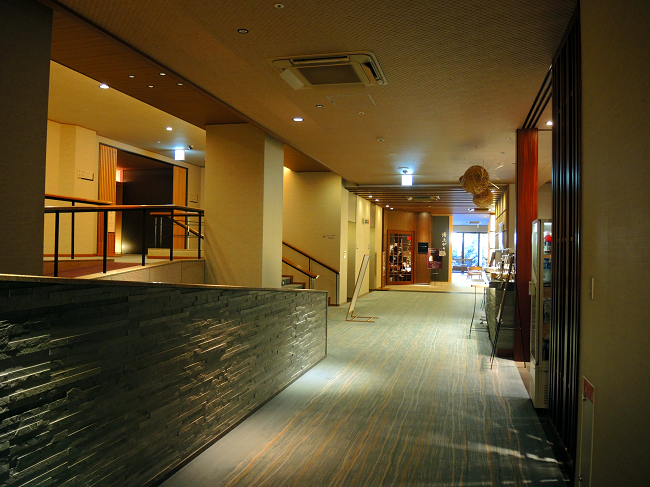 Clear Blue Skies, Glorious Warm Sunshine
On a recent adventure my wife and I had to change our plans due to the weather. During November in Hyogo, the weather tends to offer up plenty of clear blue skies, glorious warm sunshine, and little wind.
Temperatures tend to fluctuate between the mid 20ºs Celsius to low teens. It's very temperate and very pleasant indeed.
This time we had more cold days – not a problem in itself – just chuck on a scarf, but also more rain than usual – which messes with days planned around being outside.
We realised that to get the most out of our trip we'd might need to move the days of some of our plans around. For example, on one of the days when we'd planned to be outside and the weather was forecast to be poor, we switched that to focusing on doing things inside instead. And vice, versa.
TOUR: Explore Arima Onsen, from Osaka or Kyoto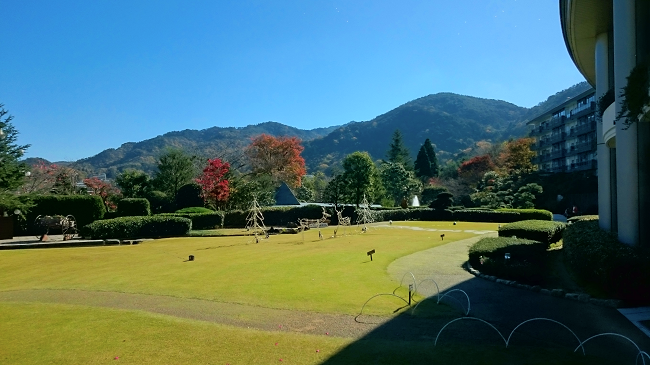 As part of this re-jig, and on the spur of the moment, we added a half-day trip to Arima – a 'high-end' mountain spa resort town famous throughout Japan for its onsen (natural hot springs).
Related: TRJ Adventures: Changing Plans, New Discoveries
This was rustled up when we saw that a good run of glorious weather we were currently experiencing would continue the next day when, in our original itinerary, we had nothing planned.
An hour or so on the internet that evening turned up the basic information required to plan a half day trip the following morning. We checked availability and decided on a day spa package at the Arima Grand Hotel.
TOUR: Arima Onsen Taikounoyu Spa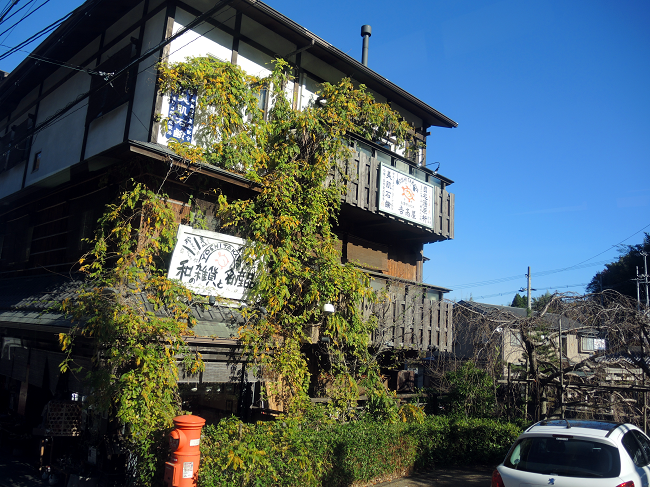 Exploring Arima Town
Our visit to Arima (just 40 minutes away by local bus from Ashiya) was delightful. Just the journey getting there was like a excursion in itself, with some staggeringly beautiful views on the way up to and from the top of Rokko mountain. After winding its way up and over the top of the mountain, our bus stopped directly in front of the modestly-proportioned Arima train station.
READ: How To Travel in Japan Without Speaking Japanese
Once we'd actually arrived in the main town itself, it wasn't quite as picturesque as I anticipated.
This can sometimes be the way with well-known, essentially 'one-trick' destinations in Japan. Sometimes the desire of local authorities and business to cram in as much as possible into a small town (to service the needs of the valuable passing tourist) wins over aesthetic considerations.
Still, it did have character in some of its architecture, with a couple of buildings in particular standing out as being worthy of photographing (as above).
The Arima Grand Hotel runs a shuttle bus service between the town and the hotel, stopping outside the train station, where we would pick it up. The bus runs every 15 minutes on the quarter hours.
Related: TRJ Adventures: 2 Week Tour of Chugoku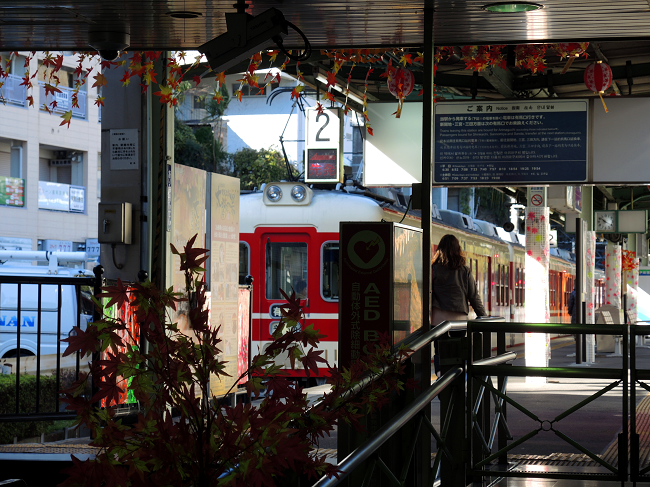 Taking Shelter in Arima Train Station
The weather was sunny with blue skies but freezing.
To get out of the biting wind, we took shelter inside the entrance to the train station. But as there are no doors to the front of the station, the benefit of having moved in there was barely perceptible! A couple of heaters mounted high on the walls pointed down at the handful of seats below and did help take the edge off the chill that was rapidly going through our bones.
Waiting for the hotel shuttle bus, we passed the time by snacking on the free samples of the exquisitely wrapped snack gift-set souvenirs (or omiyage) the shop inside the station was selling.
Thankfully, we only had to wait a few minutes before the invitingly warm bus pulled up, whisking us away to the luxury of our spa resort hotel.
TOUR: Explore Arima Onsen, from Osaka or Kyoto
Turns out the Arima Grand Hotel was less than five minutes away but why walk up hill in the cold when a free (and very cozy) bus will carry you effortlessly to your destination? Today was all about pampering and we weren't going to lift a finger unless it was absolutely necessary.
The approach to the hotel was enticing. As our micro-bus steadily turned tight bends to rise yet higher still on the mountain, we caught glimpses of its dramatic architecture.
From the main road, the entrance sweeps steeply past perfectly manicured topiary, up to the front of the strikingly designed and impressive building.
Where To Stay In Arima
A Welcome From Female Concierge In Kimono
It being winter, in a typical example of Japanese customer service, our arrival was made all that bit more comfortable by a row of large blower heaters creating a corridor of warm air, extending from the point at which we disembarked the bus, leading up to the entrance.
Here, female concierge dressed in traditional kimonos, welcomed and directed us through the doors and into the foyer.
An early Christmas tree and a few seasonal decorations aside, this was an unexpectedly spartan area with just a couple of escalators. Not what I was expecting. It was only after we got to the top the escalator that the full splendour of the hotel foyer revealed itself.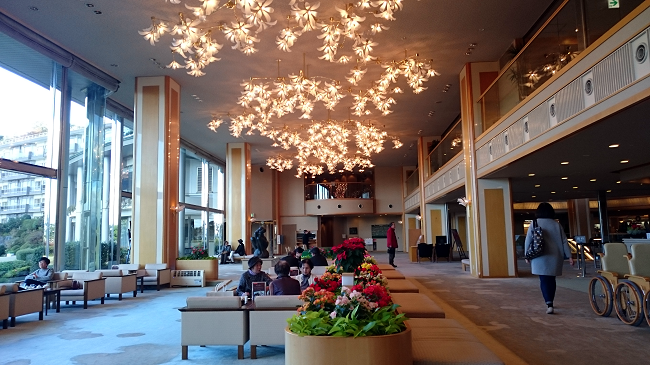 It was part of a large atrium, around two storeys high and spanning several hundred feet in length.
At the far side of where we stood was a huge expanse of glass, framing landscape painting-like scenes of manicured gardens, and beyond the confines of the hotel grounds, extensive views across and down Mt. Rokko, and many miles into the distance over the Kobe bay area.
Related: The Best Way To Experience The Real Japan? Stay In A Ryokan
The Half-Day Spa Package
Like many others, we'd booked a half-day spa package, and were not actually staying at the hotel. The hotel offers three different day plans: Lunch & Bathing, Day Use Ticket and Aqua Terrace & Yurari Spa. We opted for the Day Use Ticket.
We registered at the desk, were given a guide to the facilities that were open to us (some of the very best bits – including the roof-top pool onsen were reserved for resident guests only who, to be fair, will have paid a lot more than we had), and a leaflet (in a range of languages) aimed at foreigners to brief them on onsen etiquette.
I know the rules well, but the amusingly-designed guide made for a nice memento: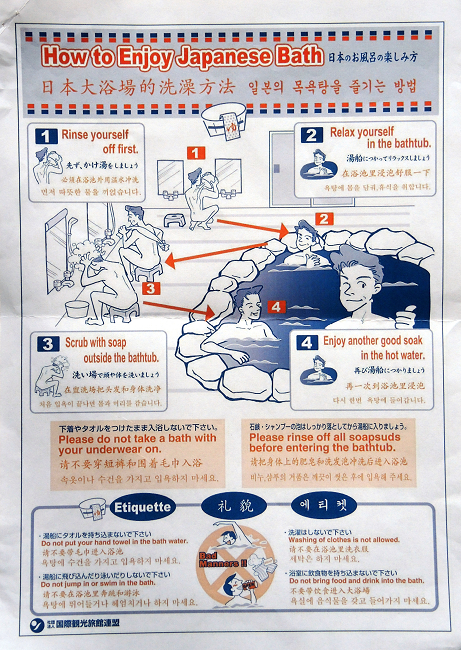 Included In The Day Use Ticket Package
Limited use of onsen – multiple hot and cold (yeah – right!) internal pools, plus two rotemburo pools outside
Sauna
Massage chairs
The price included a hotel coupon with ¥2,000 value which can be used for lunch in one of 3 restaurants, souvenir shop or private family bath hire – we opted for the lunch
Price of the package was just ¥3,650 per person
TOUR: Private Day Trip to the Kobe Mountains, Gardens and Hot Springs from Osaka
Before heading downstairs into the spa, we decided to take a leisurely stroll outside around the hotel's extensive gardens. These included a blend of traditional and contemporary designs, including a couple of large, naturally-shaped swimming pools which, on a cold day like today, were unsurprisingly entirely devoid of swimmers.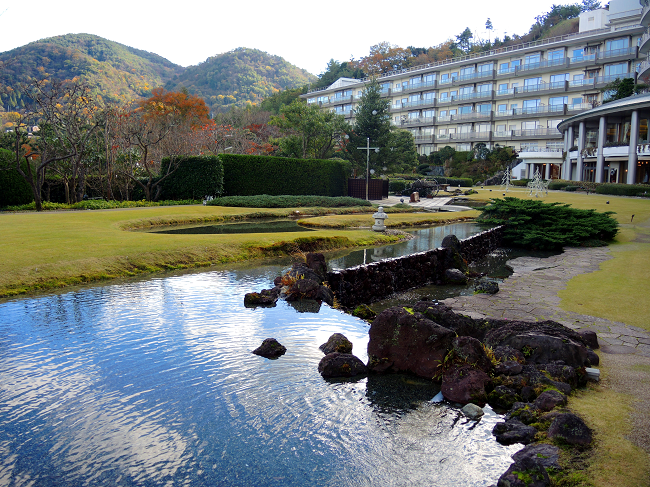 It was, however, sunny and there were a few strategically positioned viewpoints from which several spectacular, photo-worthy views of Mt. Rokko and the Kobe bay miles below could be seen.
Returning inside, we were shown where the entrance to the spa facilities and made our way downstairs. The entrance was through a long dimly-lit corridor, past a room containing fitness equipment and automatic massage chairs. There was a reception where an attendant explained the protocol and what was available to us included in our package.
Just off the the left of the reception was a lounge area with views outside where you could relax after treatments. We agreed to meet back here in a couple of hours.
TOUR: Walk around the splendid hot spring town Arima Onsen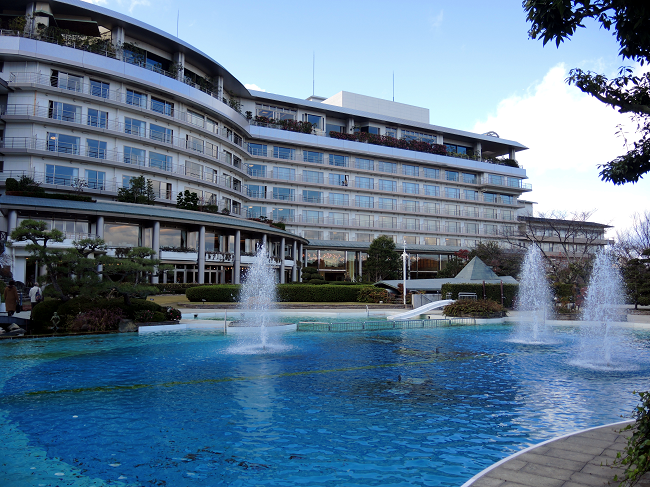 Grilled Sea Eel and A Local Beer
For the inclusive lunch, we had a choice of three restaurants – Japanese, Chinese or Western style. We opted for the Japanese where we had grilled sea eel on rice (a regular personal favourite). This tasted pretty good and was a decent-sized portion too.
It was eased down by a bottle of locally-brewed beer from the Mt. Rokko Brewery. Which wasn't too bad: light with floral notes.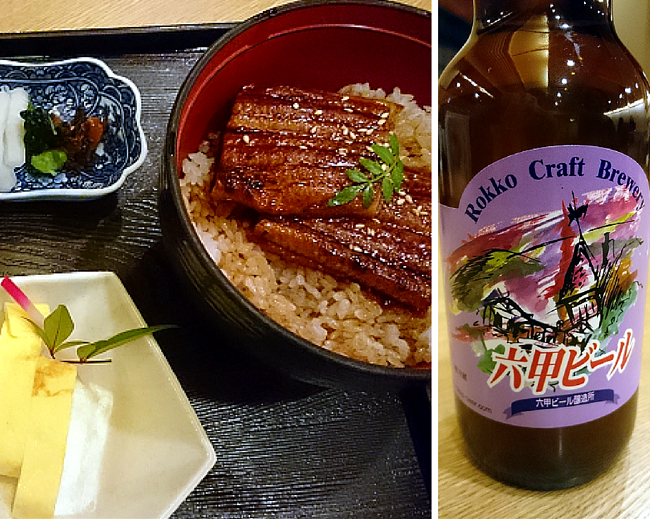 In total we were there for just over three hours. (We would have stayed longer if it had been just my wife and I, but we were with her parents who didn't want to spend too long there.) Access to the bathing facilities for one-day visitors is between 10:30 – 15:30. So our visit was something just short of a whistle stop tour, sampling only a portion of the hotel's obviously extensive facilities.
I couldn't help myself when we were at the check-in desk, peering at the full facilities and plans available to those with more time than we had today. There are four areas of relaxation within the spa: Caaze (organic spa), Easy Ayuveda (hot spring water), Zen (the chill-out zone!) and Marutaka (foot care).
Private Day Trip to the Kobe Mountains, Gardens and Hot Springs from Osaka
The roof-top pools sounded especially tempting as the views across and down the mountain side at ground level were impressive enough. They can only be glorious from the nine floors above.
For the return journey we used the hotel shuttle bus to take us back to the centre of Arima again, where we picked up another connecting local bus service. This was different to the one we took on the way up. It returned us to Ashiya, where we were staying, via a different and less scenic route.
Relaxing In Luxurious Surroundings
Arima has a well-earned reputation for being an expensive resort, and it was easy to see how money could continually and rapidly flow out of your pockets. However, with a little planning it is possible to experience its trademark luxury and champagne lifestyle on (near to) beer money.
Whilst its location, tucked behind Mt. Rokko, is memorable, the town itself is less so. It is very touristy. Which isn't something I much go in for. But few come to Arima to walk around its small number of streets, admiring the architecture. Coming here is a means to a very specific end: to be pampered and to relax in luxurious surroundings.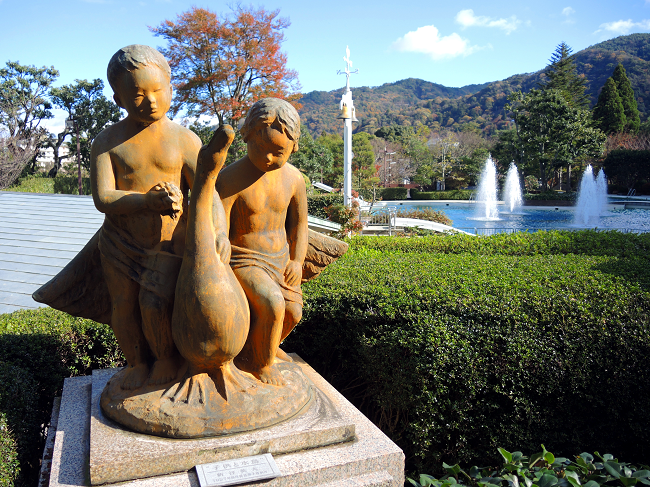 Conclusions
The day we visited was very quiet by Arima standards. When I used the men's onsen the changing room was the largest I've ever seen. There were literally hundreds of lockers. Yet, as I went through to the wash area, there were literally only two other men there.
Likewise, when using the various pools. This must be far from what the experience is like at a peak time of the year, and for that I was grateful.
As a half or full day experience it's worth considering building a visit to Arima into your itinerary if you are in the region.
TOUR: Walk around the splendid hot spring town Arima Onsen
For me though, the onsen experience is not only about relaxing as much as possible but also getting back to nature and, crucially, stepping back in time by being steeped in history. For that I'd much prefer seeking out any number of small, family-run traditional style ryokan with onsen attached in less touristy places.
Of which there are thousands. But more on that another time…
Most Popular Onsen Tours
Are you thinking or planning to go to a spa or onsen? Or have you been and have some recommendations or tips to share? If so, please leave a comment below!
Related: How To Spend A Week In Kansai (And Not Visit Kyoto)
Related: TRJ Adventures: Changing Plans, New Discoveries
Related: TRJ Adventures: 2 Week Tour of Chugoku
Related: The Best Way To Experience The Real Japan? Stay In A Ryokan
TRJ Resources
Tours:
Explore Arima Onsen, from Osaka or Kyoto!

Private Day Trip to the Kobe Mountains, Gardens and Hot Springs from Osaka
Walk around the splendid hot spring town Arima Onsen
Kobe Full Day Trip including Kobe Port Cruise from Kyoto
Official Arima Tourism website:
http://visit.arima-onsen.com/
(Nicely-designed with a selection of articles introducing you to the various aspects of Arima)
Arima Grand Hotel Official Website:
http://www.arima-gh.jp/english/
Arima Grand Hotel on TripAdvisor:
https://www.tripadvisor.co.uk/Hotel_Review-g298562-d1092329-Reviews-Arima_Grand_Hotel-Kobe_Hyogo_Prefecture_Kinki.html
Arima Onsen Sightseeing Association:
http://www.arima-onsen.com/eng/index.html
Are you thinking or planning to go to a spa or onsen in Japan? Or have you been and have some recommendations or tips to share? If so, why not leave a comment below?
Planning A Trip To Japan?