You may have heard of Tsukiji Market in Tokyo, but there's another, lesser-known fish market that's well worth a visit – and you won't see any foreign tourists there – Uonotana.
Akashi is a small port city in Hyogo Prefecture – not far from Kobe, on the way down the Seto Inland Sea coastline towards Himeji.
Five minutes walk from JR or Sanyo Akashi train stations, Uonotana Fish Market has an array of fish and seafoods stalls.
For more than 400 years the locals have been fishing off the Akashi Straights and selling their wares in a local fish market.
Uonotana (literally 'fish shelf') Fish Market is a riot of colour – both from the advertising banners hanging from the ceilings, and from the vast array of fish and seafoods on the stalls below.
How To Travel In Japan Without Speaking Japanese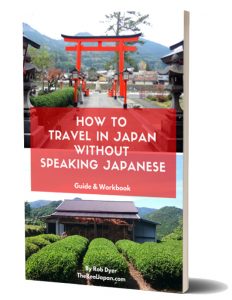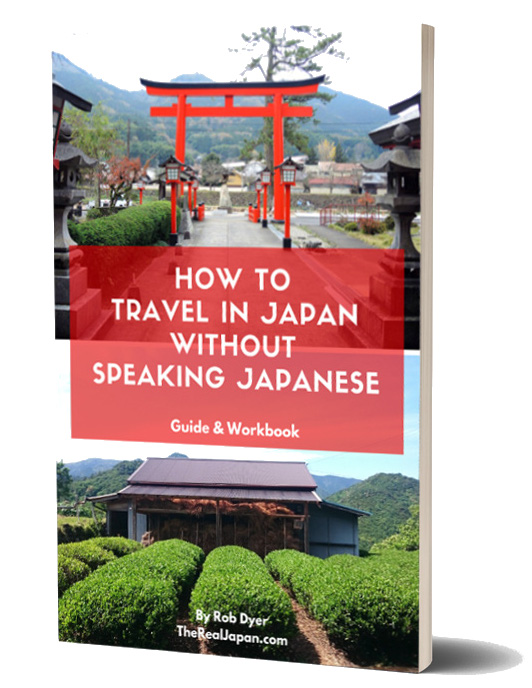 One of the major considerations with travelling in Japan is the inscrutable Japanese language.

A seemingly incomprehensible, often kaleidoscopic, barrage of cryptic symbols awaits the foreign traveller who doesn't speak or read the language.

I've been exploring Japan since 2000 and I've picked up plenty of tips along the way.
I've distilled 18 years of my experience into this ebook for you.

This practical Guide and Workbook covers all the essential basics you need to ensure your first (or next) trip to Japan is as Amazing as you deserve it to be.

Preview what's inside by CLICKING HERE.
The regular price is $8. However, for an introductory period, I'm offering a 25% discount – down to $6.
Note: This is a time limited introductory offer. So hit the Buy Now button below to take advantage of this special discounted offer today.
If you're in this region and its fresh seafood you're after, or you just want soak up the sights and sounds of an authentic Japanese fish market, this is where you'll find it.
Unlike its famous, and larger, Tokyo counterpart Tsukiji Market, you'll hardly ever see a foreign tourist here.
The market supplies restaurants in Kyoto and Kobe with fresh fish daily with wholesale trading at the market starting as early as 3:30am on weekdays.
There's an extensive selection of sea food available to buy, and (also like Tsukiji), there are plenty of places locally where you can sample sashimi straight from the market.
As the catch is fresh daily, you can expect to see the fish, octopus, crabs and other shellfish for sale still alive.
Prices are clearly displayed on everything and although they don't get many non-Japanese tourists here, with a bit of very basic Japanese, some pointing and a few smiles you can bag yourself some of the finest sea fish in Japan.
Alternatively, just wander around soaking up the smells, the noise, the cry of the market stall vendors. It's a feast for the eyes as well as the stomach!
Have you been to a fish market in Japan? What did you think of it? Post a comment below – I'd love to hear about your experiences.
And One More Thing…
If you liked this article and film you might like to subscribe to my YouTube channel HERE.
Be sure to hit the bell icon to get notifications of all new posts!
Uonotana Fish Market
Address: Akashi-shi Honcho 1 – chome 1-16, Akashi
Access: 3 minutes walk from JR Sanyo Main Line Akashi Station
From Osaka area:
· Take west line 2 towards JR Akashi Station toward Sanyo Akashi Station
· Hanshin Expressway → 2nd Shinmei Okuratani IC descend and head toward JR Akashi Station, Sanyo Akashi Station.
From Himeji direction:
· Take east to Line 2 toward JR Akashi Station, Sanyo Akashi Station
· Exit the 2nd Shinmei Ichigaya IC to JR Akashi Station toward Sanyo Akashi Station
Open: 08:00 – 18:00

Closed: No regular holiday
Tel: +81 078 911 9666
Website: http://www.uonotana.or.jp/ (google translated from Japanese)
Location Map:
Enjoyed this article? Then please share this image on social media!
Get a FREE Guide to Amazing Adventures In The Real Japan: http://buff.ly/1qjt6fe
Share this film: https://youtu.be/zrJQwqLJvYA

Get more inspiration – Subscribe YouTube ► http://buff.ly/1PAYGcZ
Join a Growing Community of Travellers!
Sign up for my email travel bulletin today, download your free copy of my Guide to Amazing Adventures in Japan, receive access to my free Resource Library and Private Facebook Group.