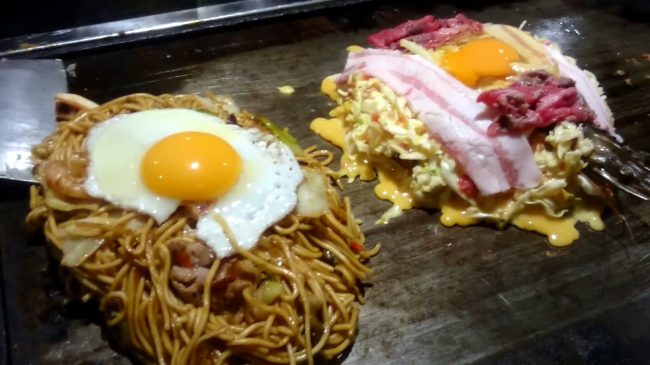 Ajinoya is a go-to restaurant in Osaka specialising in okonomiyaki and yakisoba dishes. Staff prepare, mix and then cook the food on a hotplate at your table in front of you.
Okonomiyaki is a Japanese savoury pancake containing a variety of ingredients. The name is derived from the word okonomi, meaning "how you like" or "what you like", and yaki meaning "grill". Okonomiyaki is mainly associated with the Kansai or Hiroshima areas of Japan.
In this film you see how a seafood okonomiyaki is prepared and cooked. It includes a HUGE prawn and pieces of squid. Strips of bacon, some beef and, finally, an egg is cracked on top of it.
Alongside is a traditional yakisoba dish made with noodles, pork, vegtables and ginger. At Ajinoya it is topped with a fried egg. Although literally "fried buckwheat," yakisoba noodles are made from wheat flour. It is typically flavored with a condiment similar to oyster sauce.
Optional bonito flakes can be liberally sprinkled on top of either dish if you want.
There were four of us here, so these large portions serve four people!
Ajinoya is listed in the Michelin Guide to Osaka and rightly so. A terriifc place to go with a partner or a group of friends.
It's a popular place so book in advance if you can (bookings by telephone only in Japanese) or expect to queue before getting a table. The restaurant is upstairs on the 1st floor. But it will be worth it!
Official Ajinoya restaurant restaurant (Japanese only): http://ajinoya-okonomiyaki.com/top/
Ajinoya restaurant reviews on: TripAdvisor
Location Map:
Get a FREE Guide to Amazing Adventures In The Real Japan: http://buff.ly/1qjt6fe
Share This Video: https://youtu.be/vKf2bmB249Q
Get More Inspiration - Subscribe YouTube ► http://buff.ly/1PAYGcZ
Planning A Trip To Japan?