Tucked away in Japan's remote Yaeyama Islands, wild Iriomote offers thrilling adventures in unspoiled mangrove jungles.
Iriomote is an untamed, subtropical island lying at the southwestern tip of Japan's island chain.
Of all of Japan's inhabited islands only Yonaguni lies beyond it. Taiwan is little more than 100km away, while Tokyo is a distant 2,100 km northwest.

Kayaking and Trekking on Iriomote Island
by Rob Dyer

In this article I'll be sharing my experience of a one day tour that includes kayaking and trekking inland to a remote and beautiful waterfall. I'll be pointing out some practical tips, like how to get to the island, as well as anecdotes along the way.
Be sure to read through to the end for my Tips on Kayaking and Trekking on Iriomote Islands. Finally, I've also included some links so that if you'd also like to experience this adventure for yourself you can book the very same tour I did.


Blanketed In Dense Jungle
One of the little-known Yaeyama Islands, Iriomote is only accessible by boat (there is no airport).
90% of the island is blanketed in dense jungle and mangrove swamps
90% of the island is blanketed in dense jungle and mangrove swamps, whilst its northern and eastern coastlines are fringed with golden sandy beaches. It is surrounded by the crystal clear waters of the Pacific Ocean.
For those looking for a more original and adventurous destination in Japan, Iriomote delivers.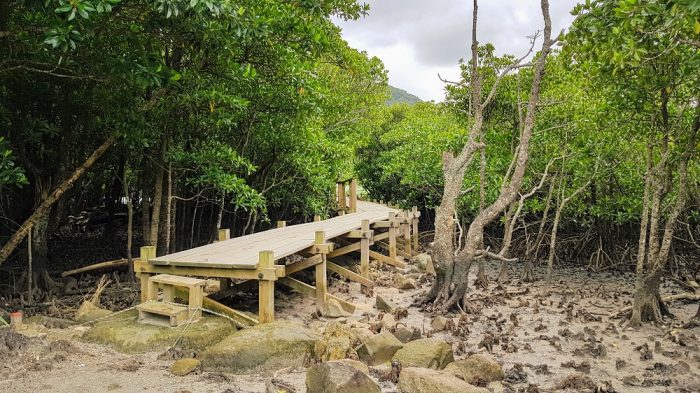 Not surprising then that local tours and activities make the most of this untamed landscape. I took a one-day kayaking and trekking tour, which was active but not too physically demanding.
The experience is suitable for beginners and is approached at a leisurely pace rather than the style of an extreme adventure activity.
Check prices and book your Iriomote kayaking and trekking tour
The trip commences with a ferry ride to Iriomote, and a transfer from the port to the nearby kayaking centre on the Nishida river. There you are given instructions and appropriate waterproof gear for kayaking.
It begins with a relaxed paddle for approximately half an hour along the mangrove jungle-lined river. Then you alight for a trek through the forest to the magnificent Sangara Falls, where you can relax and have lunch, before making the return trip.
Tour Schedule
8:00 Check in at Ishigaki Ferry terminal
8:30 Ferry departure from Ishigaki to Iriomote
9:20 Arrival at Iriomote Uehara Port (or Ohara Port in winter months)
Transport to kayaking base
Preparations and instructions at base (30 min.)
Kayaking tour (30 min.)
Trekking tour to Sangara Falls (30 min.)
Lunch and free time at the waterfall (30 minutes for each leg)
Return trek and then kayaking to base
Back at kayaking base (time to shower/change)
Bus to Uehara Port
14:30 Depart from Uehara Port
15:20 Arrival at Ishigaki Port
VIDEO: Kayaking and Trekking on Iriomote Island
Book this tour HERE
The day begins at 8am and finishes at 3.20pm and comes with an English-speaking guide. You'll need to bring a swimsuit or clothes you do not mind getting wet, a towel and a change of clothes.
Waterproof gear hire (including a waterproof backpack in which you can safely carry things like a camera or phone) is included in the price.
Early Start at Ishigaki Ferry Terminal
I was staying on nearby Ishigaki Island, but then so are most people who take the tour. That's why the day package begins with meeting your travel agent at Ishigaki Ferry terminal at 8am. I travelled with Hirata Tourism.
READ MORE: Discover the Yaeyama Islands – Japan's hidden paradise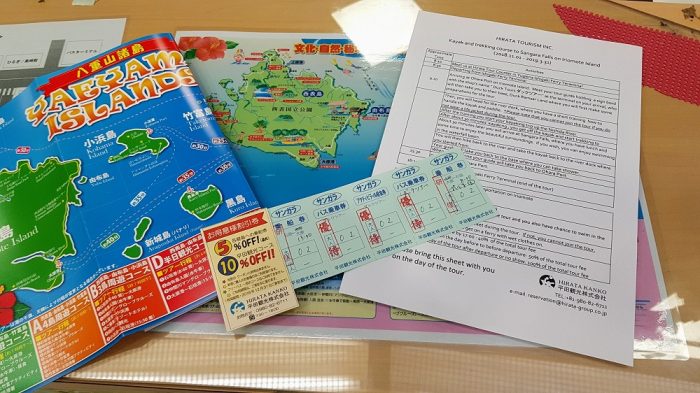 They walk you through the itinerary for the day, provide you with maps and give you a series of tickets which are exchanged at each point of change during the day (accessing the ferry, accessing the transfer from the port at Iriomote, etc.).
Nice and simple. All you have to do is turn up on time and then catch the Kanko Ferry that departs the terminal at 8:30am. The ferry ride through the incredibly clear sea to Iriomote takes 40 – 50 minutes.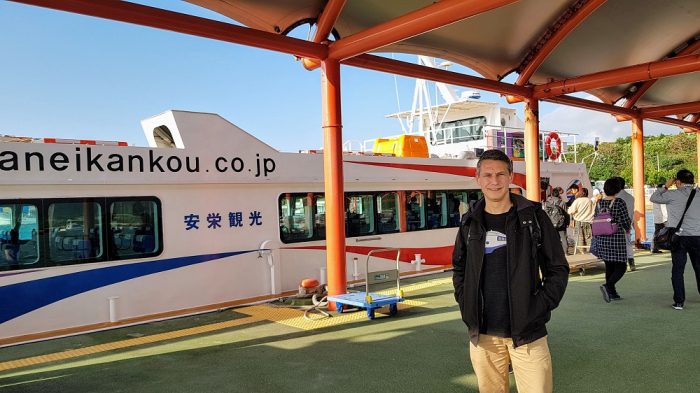 Access to the tour for most of the year is via Uehara Port in the north of the island. During November to March the southern Ohara Port is used – which is where we arrived. Here, I met up with Nao, who runs the Iriomote Duck Tour company, our guide for the day.
On the day I went, there were just two others taking the same tour – a young couple from Tokyo. The three of us climbed into the waiting minibus for the transfer to the kayaking centre on the Nishida river.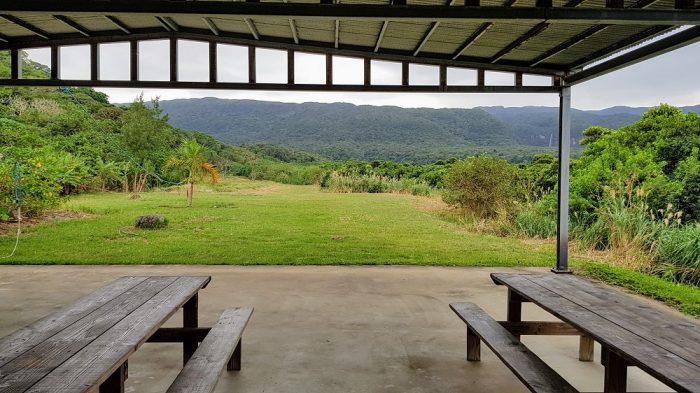 The drive to the Duck Tour base is via the only main road that follows the contours of the island's eastern coastline. It takes around 50 minutes from Ohara Port and, if you sit on the right hand side, you'll have some terrific views out over the Pacific Ocean.
If you arrive via Uehara the transfer is much shorter, taking just 10 minutes.
We had instructions to bring certain items with us for the day, but additionally the tour company provided us with shoes and (the compulsory) life jackets. After short briefing to explain the day's itinerary we headed for the river dock.
Along the way, we passed a shikuwasa tree. Shikuwasa are a variety of mikan (satsuma) found only in the Okinawan islands. Stopping briefly to pick a couple of the local fruits for the journey, we continued walking towards the Nishida river.
We headed down to the riverside where we were given instructions and hands on how to handle and control the kayak and paddle. Nao explained that the Nishida river was actually very shallow. Typically no more than one metre deep.
This news came as something of a relief to me not being a great swimmer! But I needn't have worried.
READ MORE: Discover the Yaeyama Islands – Japan's hidden paradise
Effortless Kayaking
The kayak was extremely buoyant and once in the water it was easy and effortless to control. I was pleased there were so few people as it made the steady journey up the river peaceful and relaxing. Aside from the occasional bird cry, the island is largely silent.
The only other sound coming from the paddles gently disturbing the water as we progressed up river.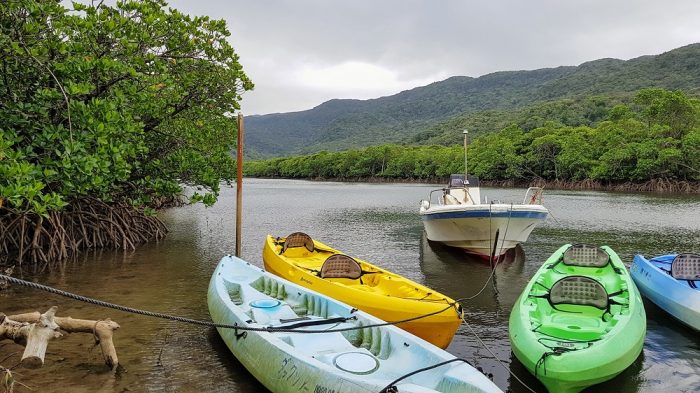 The Iriomote Wildcat
The island is covered in dense mangrove jungle. Hidden somewhere in amongst the dense trees is the incredibly rare Iriomote wildcat. This critically-endangered species is found nowhere else in the world – only on this island.
Hidden somewhere in the dense trees is the incredibly rare Iriomote wildcat
Experts estimate that little more than 100 of these magnificent creatures remain.
Our guide said he had seen one just once and at night, spotted crossing the main road. These elusive animals are largely nocturnal and are only ever really seen at nighttime.
The wildcat and other rare animals are getting hurt, and sometimes killed, in traffic accidents. Fencing has been placed alongside much of the island's main road, in order to help alleviate the problem.
Underpasses have been created at several points enabling the animals to pass from one side to the other beneath the road without fear of harm.
Understandably, the Iriomote wildcat is much revered on the island and its image appears on all kinds of merchandise.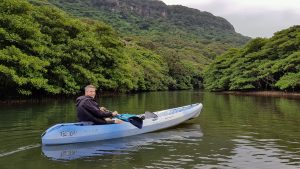 Ahead of us, stretching into the visible distance, the curves and turns in the river naturally led one's eyes into the middle distance, into the dense layers of mangrove forest that blanket the mountains here.
The crested serpent eagle could be seen circling overhead
Then, into the far distance, looking beyond the bends in the river, beyond the lighter shades of trees, and into the darker greens that defined the mountains on the horizon. The occasional crested serpent eagle could be seen circling overhead.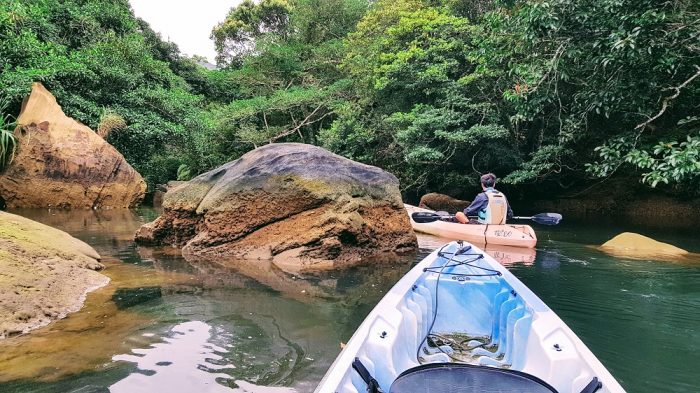 The river itself although muddy at the bottom, was quite clear on account of there being little, beyond our party, to disturb it.
Though not teeming with visible fauna, small fish could be seen darting around and, more often, a good quantity of small crabs, scuttling along the riverbed.
After about 20 minutes or so, the river narrowed considerably. Large rocks appeared up ahead, in the middle of our liquid path.
Book this Iriomote kayaking and trekking tour through the Hirata website HERE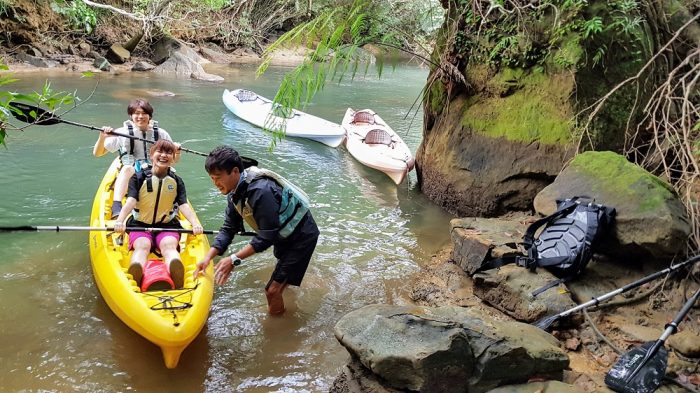 My fledgling kayaking skills were put to a new test as I slowed the craft down in order to weave my way between a series of these obstructions. Branches of the trees lining its banks were now arching over us.
Forging New Paths Into 'Uncharted Territory'
It made me think back to all those adventure novels I read as a boy in which our hero explorers forged new paths into uncharted territory.
Sometimes, as in Arthur Conan Doyle's Professor Challenger stories, fantastic sights (and beasts) lay hidden just around such bends in similarly wild and remote islands.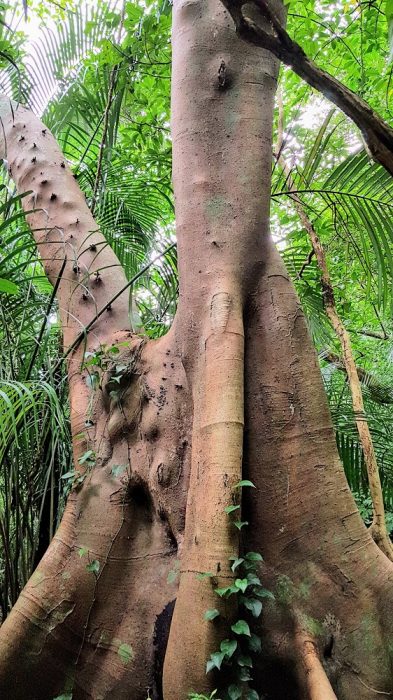 Although there are no prehistoric animals surviving on Iriomote today (at least none that the locals would talk about!), they could still quite easily film the next Jurassic Park movie here. Such is its strikingly untamed natural beauty.
Once through the slalom of rocks, the flow of the river came to a virtual halt as it shallowed out. To our left was a small, natural landing stage. It was here that we would leave our kayaks and being our trek deeper and higher into the island.
Nao tied up our kayaks, explained that we now had around a 30 minute trek ahead of us. Throwing our waterproof sacks over our shoulders, we wasted no time in heading off.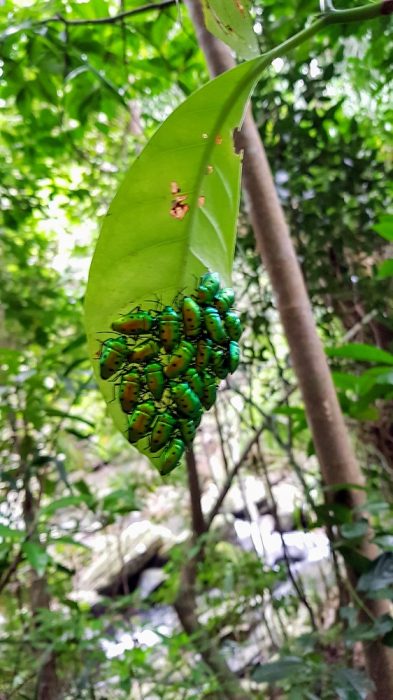 Trekking Through Thick Mangrove Jungle
It was instantly apparent that we'd need to keep our wits about us and be constantly focused on where we were stepping, if we didn't want to have an accident and risk injury.
It had been raining in recent days and the floor of the forest was wet and extremely slippery. Exposed roots of the mangrove trees, some of which are more than 300 years old, sprawled all over what little pathway there was, making it difficult not to trip or inadvertently catch one's foot as we wound our way through the thick jungle.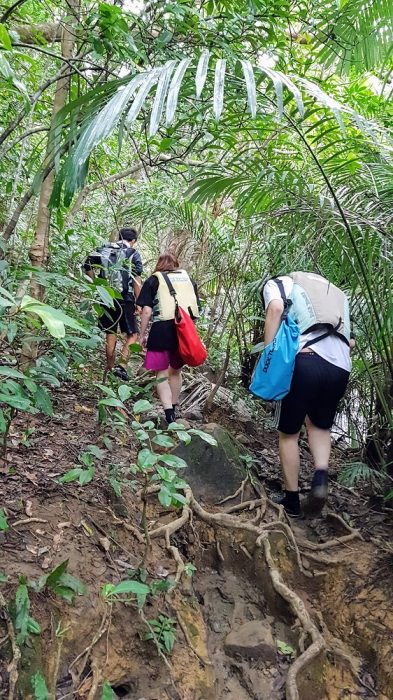 In places the ascent was steeper than I had anticipated. I guess I was expecting a clear, well-defined path, that we would simply walk along, admiring the rugged landscape as we went.
Nature is still very much in control here
However, although this is a marked route (small red ribbons every few metres indicate the way), nature is still very much in control here. This meant one had to constantly focus on the next step or two ahead. Looking out for the best (safest and most stable) spot to place each and every step.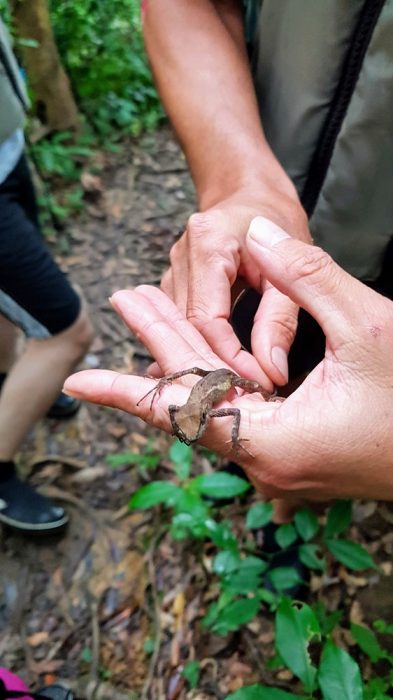 Although I had fallen to the back of our party, mainly so I could keep pausing to take photographs, I found myself looking ahead, to our experienced leader to try and see where he was placing his feet at every twist and turn.
It wasn't easy. All three of us had our slips, stumbles and trips along the way, but at least it greatly added to the sense of exploration!
The path beneath us had been washed away
More than once, the path beneath us had been washed away by water running down the mountainside, leaving not much more that a few toe holds above and an almost sheer drop to the river below.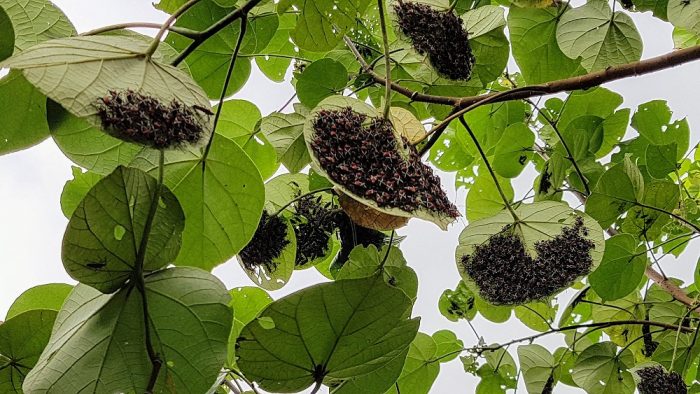 This was clearly as common problem at a couple of points along the way as rope handrails had been fitted to the larger trees. One had to tug ones self along the precarious ground by means of the rope alone. Without it, several spots would have been almost impassable.
Exposed Roots of Mangrove Trees
The exposed roots of the mangrove trees were everywhere underfoot. If you tried to continue walking forward but turned your eyes away from the direction of travel it only took a second or two for you to hit one of those roots and stumble.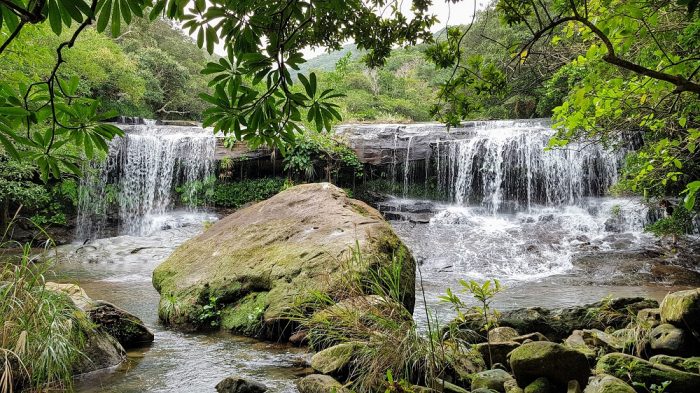 Due to the hard-going, I was surprised at just how quickly I built up heat in my body. It was about now that I was thankful I wasn't doing this during the summer. We were trekking in December.
I was thankful I wasn't doing this during the summer
The temperature had been in the low 20% and the humidity negligible (December is the month with the lowest humidity for the entire year).
I imagine it must be less than pleasant during the hottest summer months of July and August when the temperature goes above 30% and the humidity is as high as 90%.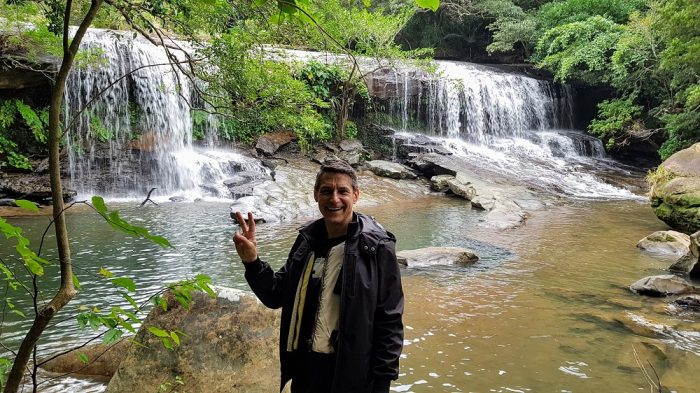 Occasionally Nao would stop to point out the local flora and fauna. A recurring theme was dozens of brightly coloured bugs huddling together on the underside of leaves. Not a sight for the squeamish but fascinating to me.
Dozens of brightly coloured bugs huddling together on the underside of leaves
Small lizards scurry up the trunks of trees as you pass by one of which was impressively grabbed by Nao's swift hand so we could take a closer look (and photo) and bird calls emanating from within the forest is a constant.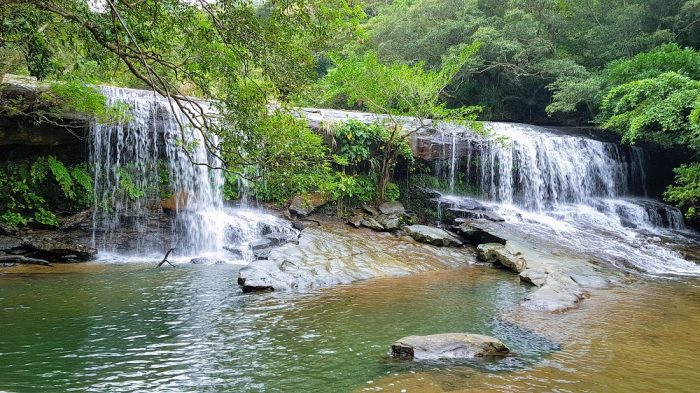 The Beautiful Sangara Falls
After a 30-minute trek we came to our destination the beautiful Sangara Falls waterfall. What it may lack in height is counterbalanced by its beauty.
Much wider than it is high, there is a steady flow of water which has made its way from the mountains above. To get to its far side we had to wade through the river it flows into.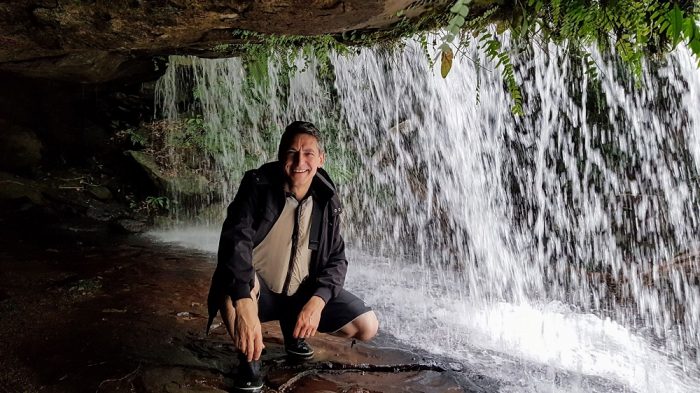 Nao pointed out a narrow strip of rock that acted as a relatively shallow path to the far side of the falls. He made a point of saying it was important to be careful not to step off that ledge of rock. If we had the water was deeper you could not see the bottom.
Nao warned us that the rock surfaces can be quite slippery. All three of us gingerly made our way safely across though. Another slight raising of the heart rate good for the feeling of exploration and adventure!
Book exactly the same tour through Viator HERE.
What's included in the tour
Iriomote – Ishigaki round ferry tickets
Transport to and from the kayaking centre
Waterproof gear hire
Kayaking instructions
Kayak and trekking tour
Lunch and drink
Shower facilities
We had about 20 minutes free time at the falls before lunch (a bento box and a flask of barley tea included within the package). Lunch is taken at a delightful spot on top of the Sangara Falls. It's an absolutely idyllic setting and a wonderful place to relax for half an hour before making the return journey.
Back at the kayaking base, there was time to shower and change into our regular clothes. It was also a last chance to say goodbye to Eru – the family goat!
I saw another of the island's crested serpent eagles flying above. But, alas, no Iriomote wildcats. Perhaps next time?
Tips for Kayaking and Trekking on Iriomote
Tour
You have to book tours in advance, you cannot turn up on the day. Check prices and book your Iriomote kayaking and trekking tour either with Viator or with Hirata.
Logistics
All you need is included in the price of the ticket. If you're not staying on Iriomote then you'll start at Ishigaki Port terminal where you're given a copy of the day's itinerary and a series of tickets to exchange with the ferry and tour operators. It's almost an 8 hour day – so other than the late afternoon/evening don't plan anything else for the day.
Clothing
You'll need to bring a swimsuit or clothes you do not mind getting wet, a towel and a change of clothes. Waterproof gear hire (including a waterproof backpack in which you can safely store things like a camera or phone) is included in the price.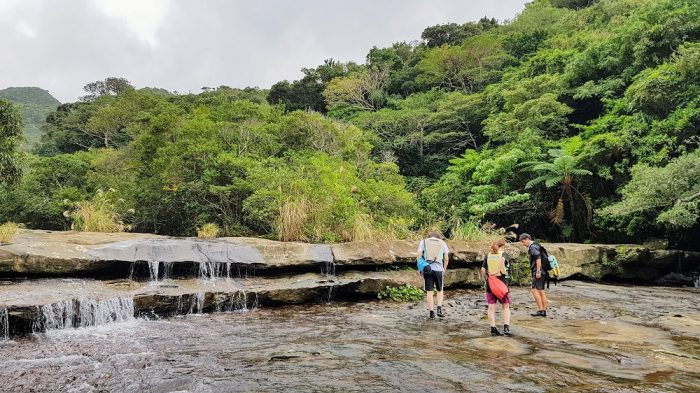 Water
It's a good idea to take a bottle or flask or water with you. I did the tour in December – one of the coolest months of the year – and I still got hot during the trek. You'll definitely need water during the hotter months of the year.
Food
A bento box lunch with a flask of barley tea is included in the price. The lunch included three rice balls, some edamame beans, boiled egg, frankfurter sausage and a slice of cooked pork luncheon meat (it's an Okinawan thing!).
Toilets
There are toilets at the Duck Tours base camp. But other than those, that's it for the day. However, if you need to, it's easy to slip away into the forest during the lunch break to answer the call of nature (I did!).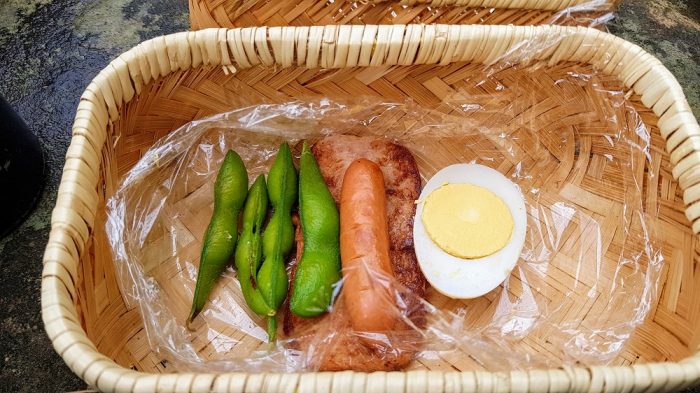 Fitness
The tour is promoted as being suitable for beginners and children. I'd agree with the beginners bit, but young children would struggle with some of the trekking which can be a little tricky at times. Teenagers will be fine but if you have younger children I'd check with the tour operator in advance before booking.
Kayaking
This was way easier than I expected! (It had been some years since I'd been in a canoe or kayak.) The boats are light and easy to manoeuvre. Just pay close attention to the instructions at the start of the tour and you'll be fine. I'm not a great swimmer but the Nishida River is only a metre deep and you are given a lifejacket to wear for extra safety.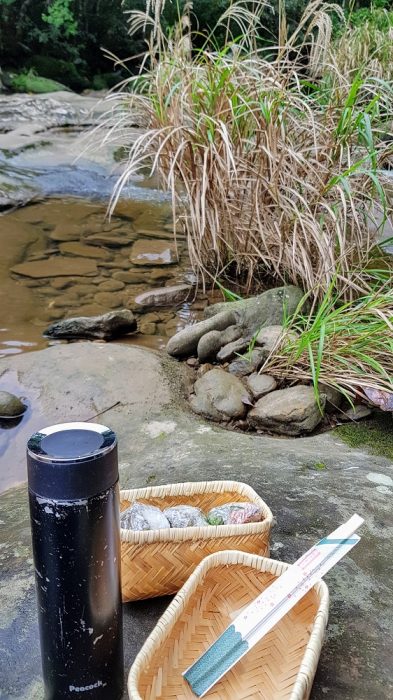 Trekking
This is definitely a trek and not a hike. (A hike is generally seen as easier and more relaxing than trekking.) The ground is constantly uneven, slippery and riddled with exposed tree roots that are easy to trip over if your attention drifts. The pace though is slow and steady, and provided you are careful you should be fine.
The rocks on top of the Sangara Falls (where you stop for lunch) are slippery. Despite warnings from our guide, one of our party still slipped walking the area around after eating lunch. Thankfully, it was nothing more serious than a muddy thigh and bruised ego (not mine – I hasten to add!).
Also, be aware that the waterproof ankle boots that are provided are fine for the kayak, but not ideal for the jungle trek as they offer little grip or support.
I hope you enjoyed hearing about this tour on Iriomote. The island has a natural, unspoiled beauty that is perfect for exploring off-the-beaten-track. If you're wondering if a tour like this is worth adding to your itinerary, I wholeheartedly recommend doing it.
Watch My Video of the Day
Book this tour HERE
Location Map
How to travel in Japan if you don't speak Japanese

If you want to travel in Japan but don't speak Japanese you can buy my ebook HERE.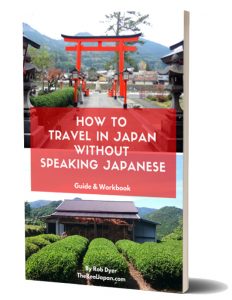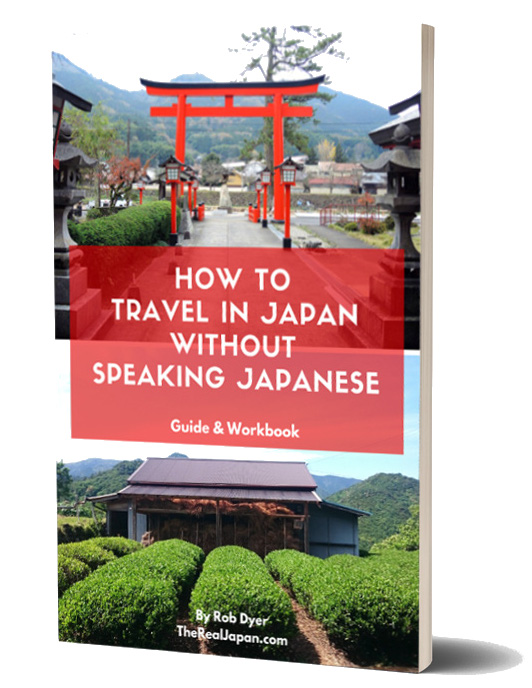 Resources
Hirata Tourism

I travelled with Hirata Tourism who are specialists in the Yaeyama Islands.
You can book this Iriomote kayaking and trekking tour through Hirata's website HERE.
If you prefer, you can book exactly the same tour through Viator HERE.
Official Yaeyama Visitor's Bureau
eBook
Get my ebook How to Travel in Japan Without Speaking Japanese HERE.
READ MORE: Discover the Yaeyama Islands – Japan's hidden paradise
If you enjoyed this article please share these images:

Feedback and questions welcome – leave a comment below.
Planning A Trip To Japan?
Sign up for our Japan Travel Bulletin, download your copy of our Guide to Amazing Adventures in Japan, receive access to our free Resource Library and Private Facebook Group.