A Yorkshire Lad, Raised in Sheffield
Dan Hewitt, better known as YouTuber JaDan – Dan In Japan, is a Yorkshire lad born and raised in Sheffield, in the heart of England.
One day, Dan awoke and decided to relocate to Japan.
He wasn't a Japanophile, had never considered living in Japan before.
But he moved here anyway.

Starting A YouTube Channel
Initially, to give him something to do, and to share his day-to-day life experiences (like washing his clothes with washing up liquid instead of washing powder), Dan started a YouYube channel called JaDan.
He moved to Japan in April 2016 (to a city called Akashi) to pursue a new career teaching English.
Dan has a love for gaming, comic books, technology, photography, sightseeing, and punk music.
Now, JaDan adds two new videos every week (on Mondays and Fridays) to his YouTube channel, that are packed full of interesting, fun and useful content related to life in Japan.
All delivered in Dan's own inimitable style (aka Not Always Safe For Work). ;-)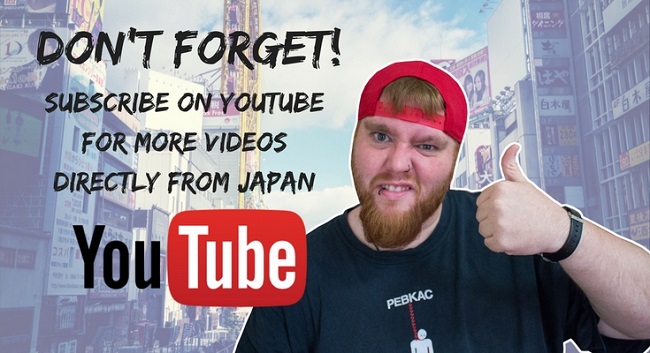 Our First Meeting
I first met Dan in December 2017 at a Twitter meetup in Kobe. He's a unique character and certainly not your average expat English teacher. We hit it off immediately.
I was keen to hear and understand more about his relocation, and what advice and 'reality checks' he would offer anyone else considering the move to Japan.
So, I caught up with JaDan in Akashi, some 6,000 miles from his home city of Sheffield, to discuss Jaffa Cakes among other important stuff.


VIDEO: Interview With JaDan – Dan In Japan…
And One More Thing…
If you liked this article and film you might like to subscribe to my YouTube channel HERE.
And be sure to hit the bell icon to get notifications of all new posts!
I post a new inspirational video every Friday.
Resources
Related: Exploring The World's Longest Suspension Bridge – Akashi Kaikyo
Related: Uonotana Fish Market, Akashi
Japan Travel Tours & Activities
Subscribe to my YouTube channel
If you enjoyed this article please share this image online:

Feedback and questions welcome – leave a comment below.
Planning A Trip To Japan?
Sign up for our Japan Travel Bulletin, download your copy of our Guide to Amazing Adventures in Japan, receive access to our free Resource Library and Private Facebook Group.