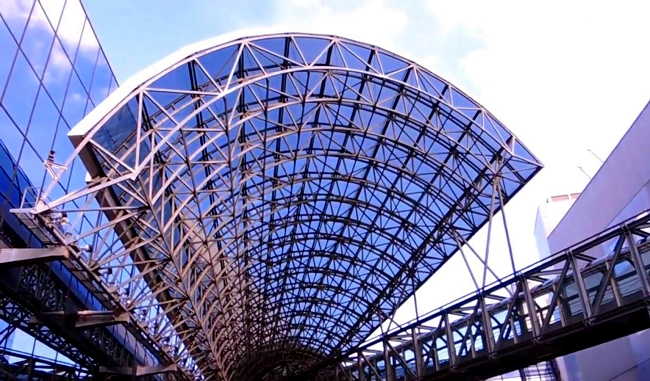 Kyoto, the former Imperial capital of Japan with its amazing wealth of Buddhist temples and Shinto shrines, is on many people's 'to do' list when travelling in Japan.
Most arrive here via train at Kyoto Station. And, although it probably wasn't on their list of 'must see' sights when in Kyoto – it really ought to be. It's incredible!
One of Japan's most iconic pieces of public architecture, designed by Hiroshi Hara and opened (in this current design) in 1997, it's 15 storeys high! It's one of the country's largest buildings, incorporating a shopping mall, hotel, movie theater, department store, and several local government facilities.
There's a series of escalators you can take to get to the top – and that's what we do here. It takes 12 minutes to get there and back, so pull up a chair, grab a drink and let's explore Kyoto's 15 storey train station!

Official Kyoto Station Building  website:
https://www.kyoto-station-building.co.jp/english/
Location Map:

Get a FREE Guide to Amazing Adventures In The Real Japan: http://buff.ly/1qjt6fe
Share This Video: https://youtu.be/ps95c_Txn3o
Get More Inspiration – Subscribe YouTube ► http://buff.ly/1PAYGcZ
Join a Growing Community of Travellers!
Sign up for my biweekly bulletin today, download your copy of my Guide to Amazing Adventures in Japan, receive access to my free Resource Library and Private Facebook Group.