In 2019 the Rugby World Cup Japan took place. It was a huge success, bringing many rugby fans to the country for the first time.
With matches in no less than 12 cities across 3 of Japan's islands it was great way of exploring the country.
If you're thinking of planning a trip to follow your team in Japan for the 2019 Rugby World Cup, you're not alone.
The Japanese government expects the event to attract some 400,000 foreign tourists to Japan this year.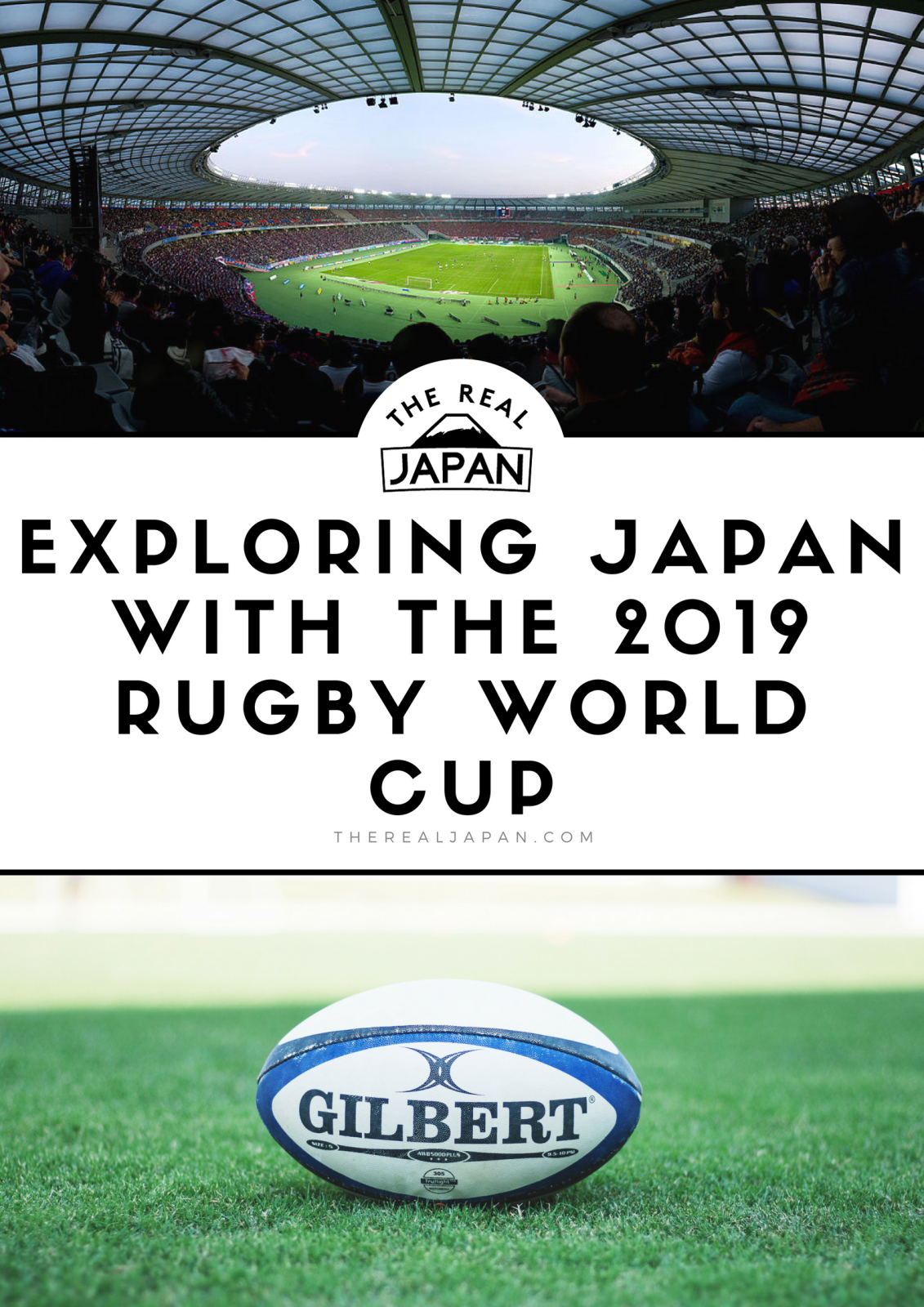 Jump to: The List of Best Hotels To Stay In For the 2019 Rugby World Cup


The 2019 Rugby World Cup
The tournament comes to Japan for the first time ever during this autumn.
Rugby fans from all over the globe will convene in the land of the rising sun for the 44-day event.
READ: How To Travel in Japan Without Speaking Japanese
Games are being played up and down the country, with the first match kicking off at 11:45am Japan time on 20th September.
Games will be played on three different islands: Hokkaido, Honshu and Kyushu
The great thing about it from The Real Japan's perspective is that many lesser-known cities will play host to games - not just the famous capital.
Indeed, games are being played on three different islands: Hokkaido, Honshu and Kyushu.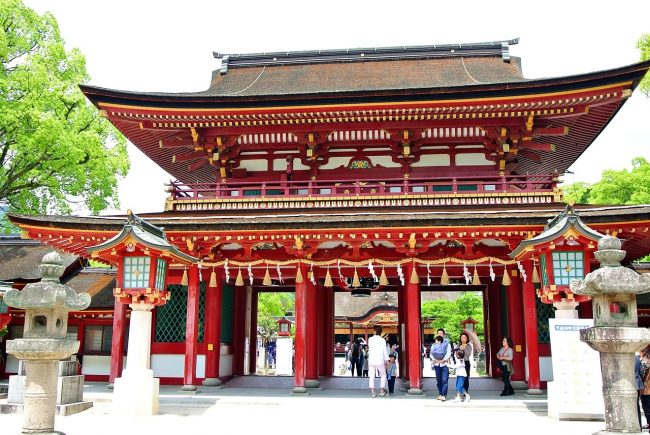 Fukuoka, Kyushu - one of the 12 host cities
Ticket demand
Speaking some months ago in Tokyo, tournament Director Alan Gilpin said:
"From match venues, team camps and host cities readiness, to the ticketing and volunteering programmes and tournament budget, strong progress has been made...
This has been achieved by a strong partnership between World Rugby, the Japan Rugby 2019 Organising Committee, the Japan Rugby Football Union, host cities and national government."
"We are particularly encouraged with the strong demand for the ticketing pre-sales phases with more than two million tickets applied for to date. The challenge for all events is to convert demand into sales, but this is a superb position to be in with a little over a year to go."
Shizuoka Stadium
The 3 host islands
Hokkaido
Japan's northern-most island. It's still very much a wild landscape and Japan's coldest region as it sits just below Siberia in Russia.
The Rugby World Cup will bring The Real Japan to 400,000 visitors, many for the first time
Honshu
The largest, and most diverse, of Japan's 6,800 islands. It's where you'll find most of the well-known cities including Tokyo, Kyoto, Osaka, Yokohama, Hiroshima and Kobe.
Kyushu
The largest of Japan's southern islands, and it's one of my favourite parts of Japan. It's closer to South Korea than it is Tokyo. It's mountainous (even by Japan's already very mountainous standards!), and it's here that the climate becomes subtropical.
VIDEO: Discover the host venues



The 12 host cities
The 12 cities playing host to games are: Sapporo (Hokkaido), Kamaishi, Kobe, Kumagaya, Osaka, Shizuoka, Tokyo, Toyota, Yokohama (all on Honshu), Fukuoka, Kumamoto and Ōita (Kyushu).
The 2019 Rugby World Cup is bringing The Real Japan to hundreds of thousands of visitors, many probably for the first time.
It's a fine example of how sport can help expand the perception of a country and, more importantly, encourage fans to explore it beyond the capital city, beyond the cliches.
So, let's take a look at each of the host cities...
Fukuoka
Experience the gateway to the southern island of Kyushu. From its historical sites to lively street food stalls.
Yanagawa (known as the city of water) is great for a river cruise. Whilst Harazuru Onsen is the perfect place to relax in a natural hot spring after visiting Fukuoka's Level 5 Stadium.
Kamaishi
Kamaishi City in Iwate Prefecture can be found in the northern Tohoku region.
This area is little-explored by most foreign tourists to Japan. But that's a big mistake. It has some beautiful countryside.
Kobe
An attractive harbour town nestling between Osaka Bay and the Rokko Mountain range.
One of the first Japanese cities to open up to the West, its cosmopolitan and lively heart is home not only to the world-famous Kobe beef, but can claim more stylish coffee houses than pretty much anywhere else in Japan.
Kumagaya
Kumagaya City is located north of Tokyo (3 hours by bullet train).
The rural landscapes of Saitama are the biggest drawn for visitors. Koedo Kawagoe is a historic and nostalgic town preserved from the Edo period.
You'll have the opportunity to enjoy a rickshaw ride, try authentic traditional sweets and see several shrines in Kawagoe.
Kumamoto
In the centre of the southern island of Kyushu, Kumamoto has one of Japan's top castles - Kumamoto Castle. It's surrounded by splendid nature of Mount Aso and Amakusa.
Home also to perhaps Japan's most famous mascot - the friendly, rosy-cheeked brown bear Kumamon.
Oita
Renowned for being one of the most famous onsen destinations in the whole of Japan., it's located on the north-eastern coastline of Kyushu.
Yufuin Onsen, at the foot of the gorgeous Mt. Yufu, offers a fantastic selection of natural hot springs, peaceful ryokan (traditional Japanese inns) and cafes.
Osaka
Japan's third-largest city and considered the food capital of Japan. Historically, Osaka's nickname "tenka no daidokoro" (the nation's kitchen) comes from its time as Japan's rice hub during the Edo Period.
The bustling street life of Osaka is like no other city in Japan. It's an exciting, colourful, and welcoming city in spite of its size. (And one of my personal favourites.) Try Takoyaki, battered balls filled with diced octopus, it's the local 'celebrity dish' and great with a cold beer.


Sapporo
This bustling city on Japan's northernmost island of Hokkaido is host to the northern still has the feel of a frontier town. At night the city really comes to life.
Farming, livestock breeding and fishing remain key industries on Hokkaido, meaning you'll find some of Japan's finest food in its restaurants including ramen and seafood.
Things to do in Sapporo
Enjoy a buffet featuring a variety of dishes, including Genghis Khan lamb, red king crab, snow crab and 20 other dishes!

Gaze into the crystal waters of Hokkaido's Lake Shikotsu and Lake Toya on this day tour.
Have your fill of premium meats and alcoholic drinks until the wee hours of morning at NanKouEn Okura!
Shizuoka
Located in the Chubu region, Shizuoka is home to Japan's iconic Mt. Fuji. If you've seen a photo of Mt. Fuji there's a good chance it was taken in Shizuoka.
Considered by many as the green tea capital of Japan, it's one of the best places to sample this national drink. If you fancy something a bit stronger try the sake.
Tokyo
Welcome to the capital of Japan. A sprawling megalopolis that dazzles with its modern architecture and pop culture, but still offers plenty of history and nostalgia too.
Boasting more Michelin-starred restaurants than anywhere else in the world (!), Tokyo is at the cutting edge of quality cuisine in a country already celebrated for its food.
Shopping districts and streets specialising in electronic goods, video games, anime and manga vie with countless flagship stores of global luxury brands for your yen. Head to Shibuya and Harajuku for the pop culture. Kabukicho, Roppongi and Golden Gai for red light nightlife, restaurants and departments stores.
Shitamachi is the historical area in the city centre. Head to Asakusa, host to Senso-ji Temple, a Buddhist temple with almost 1,400 years of history, and the strikingly modern Tokyo Sky Tree to sample the old and the new in one atmospheric place.


Toyota
Home to battlefields from the age of the samurai and a unique food culture, Toyota can be found in Aichi Prefecture.
Nearby Nagoya City is worth a visit, especially for foodies. Many of its dishes date back to ancient times. Try Hitsumabushi - grilled eel served over rice. A classic that still tastes delicious (and one of my personal favourites!).
Yokohama

A modern marine city, Yokohama isn't too far from Kamakura and Hakone - both big draws for local and international tourists alike.
Local gourmet foods include Gyunabe, a beef hotpot dish made with thinly-sliced beef, simmered with tofu and vegetables in a soy sauce soup, then dipped in raw beaten egg. Nabe is one of Japan's signature dishes, and a staple of the diet of suo wrestlers.

The capital of Kanagawa Prefecture, about 1,000 years ago, Kamakura was governed by the first ever shogun, Minamoto no Yoritomo.


How to Travel in Japan Without Speaking Japanese
One of the major considerations with travelling in Japan is the inscrutable Japanese language.

A seemingly incomprehensible, often kaleidoscopic, barrage of cryptic symbols awaits the foreign traveller who doesn't speak or read the language.

I've been exploring Japan since 2000 and I've picked up plenty of tips along the way.
I've distilled 19 years of my experience into this ebook for you.

This practical Guide and Workbook covers all the essential basics you need to ensure your first (or next) trip to Japan is as Amazing as you deserve it to be.

Asia's first Rugby World Cup
World Rugby Chairman Bill Beaumont said "With Rugby World Cup as the centrepiece, 2019 is the perfect stage to showcase to the world an attractive, thriving sport that continues to grow in every region and attract new participants and fans.
Rugby is all about teamwork and, working in partnership with our regions and unions, 2018 brought yet more important advances that will enable us to convert the excitement and interest in Asia's first Rugby World Cup – a game-changing event – into sustainable growth for the sport.
We are well on our way"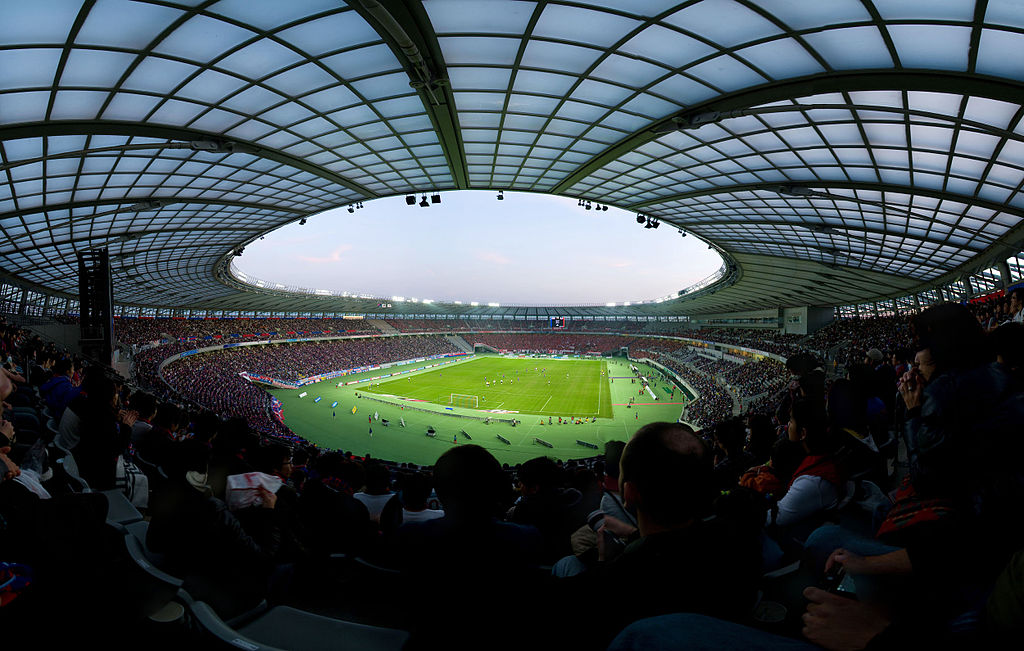 Ajinomoto Stadium - Photo: by Spitfireap / CC BY 3.0
Venues of the 2019 Rugby World Cup
All links below to the official Visit Japan 2019 website open in a new window.
Video: Higashi-Osaka, Japan's holy ground of rugby


Getting around Japan
The cost of internal flights in Japan continues to come down as the low cost carrier airlines become more established.
However, the Rugby World Cup is the perfect chance for making the most of Japan's world-famous bullet trains (shinkansen).
The Rugby World Cup is the perfect chance for making the most of Japan's world-famous bullet trains
All three host islands - Honshu, Hokkaido and Kyushu - are all connected to each other via Japan's extensive rail network. Undersea tunnels connecting the main island Honshu with Hokkaido in the north and Kyushu in the south.

Japan's incredible shinkansen bullet trains
This is where Japan's excellent value Japan Rail Pass comes into play. The pass offers fans unlimited access to the shinkansen network, connecting all the major cities including the capital Tokyo. Trains reach speeds of up to 320km/h (199mph).
The JR Pass also provides access to other Japan Rail national trains, buses, ferries, and airport transfers.
Note: buy the Japan Rail Pass in advance to get the cheapest prices.
Visiting Japan with tattoos
In Japan, tattoos have a long history.
The samurai were often covered from head to toe in them. In more contemporary history they have become synonomous with Japan's organised crime gangs - the yakuza.
However, attitudes to tattoos in Japan are changing.
With the advent of the 2019 Rugby World Cup and the 2020 Tokyo Olympics, even the government is getting involved.
Of course, many rugby fans, to say nothing of the players themselves, have tattoos. As do many of the increasing numbers of foreign tourists coming to Japan each year.
And many of those will want (and should!) to try bathing in an onsen - Japan's natural hot springs.
Traditionally, onsen have had a ban on tattoos, largely on account of their association with the yakuza. But growing foreign tourism, alongside the more progressive attitudes, particularly of younger Japanese towards tattoos, means it is possible to sample the delights of onsen, even if you have tattoos.
But you'll need to do some homework first so that you're not refused entry. Read this article for more tips on using onsen if you have tattoos.
READ MORE: Onsen Tips For Those With Tattoos
48 games held at 12 stadiums
A total of 48 games will be held between September 20th and November 2nd, at 12 stadiums across the country.
The opening match takes place at Ajinomoto Stadium, in Tokyo, with the final match being held at International Stadium Yokohama in Kanagawa.
Match schedule
Download the Match Schedule HERE (instant PDF download)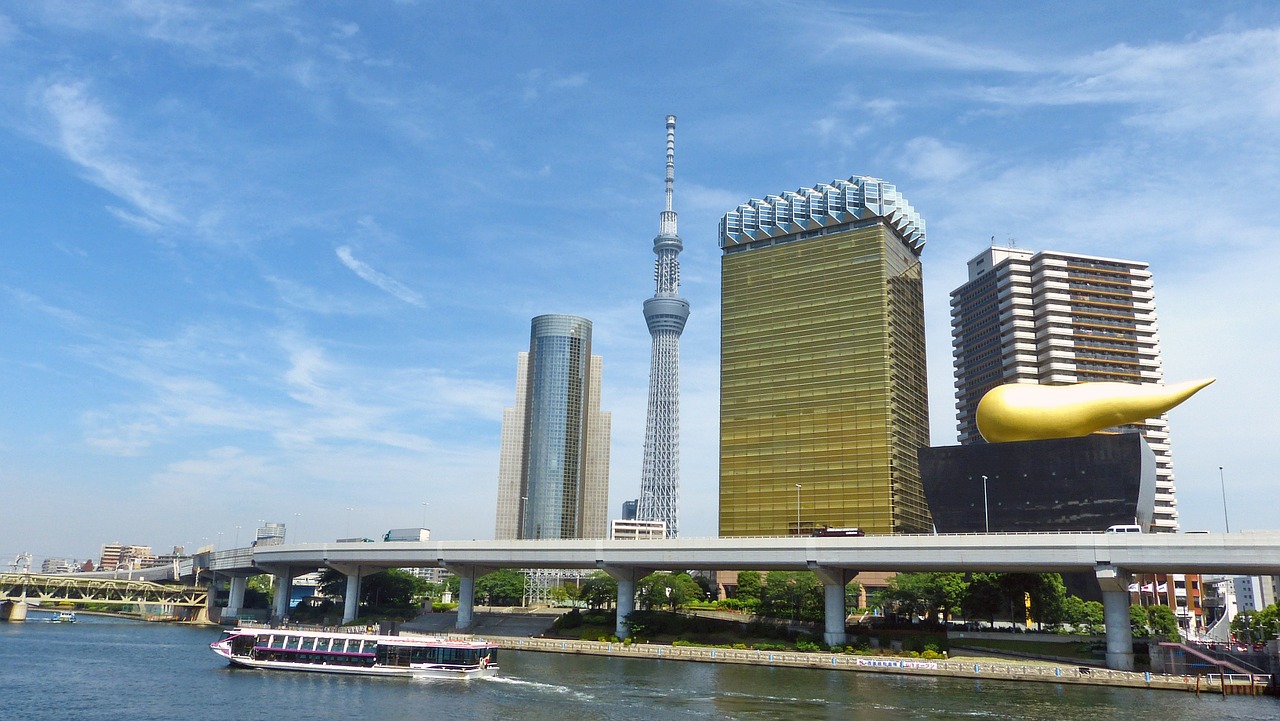 Tokyo - host to the opening match of the 2019 Rugby World Cup
Book your accommodation
Ranked based on customer reviews, below is a list of the best hotels and accommodation to stay at for the Rugby World Cup, covering every one of the 12 host cities.
You'll need to book your accommodation in advance to be sure you get the best deal and the best located accommodation options. Some hotels close to stadiums are already selling out rooms on dates around the games.

The List of Best Hotels to stay in
Visitors to Fukuoka love: Hakata ramen, Japanese cuisine, Ōhori Park
Visitors to Kamaishi love: autumn/fall leaves
Visitors to Kobe love: food, sightseeing, harbours
Visitors to Kumagaya love: ambience, business, city trips
Visitors to Kumamoto love: castles, food, sightseeing
Visitors to Oita love: hot springs, food, sightseeing
Visitors to Osaka love: Osaka castle, Shinsekai, Minoo Park
Visitors to Sapporo love: Snow Festival , soup curry, Odori Park
Visitors to Shizukoa love: food, sightseeing, nature
Visitors love: Shinjuku district, Ryogoku Kokugikan (sumo stadium), Imperial Palace
Visitors to Toyota love: business, budget-friendly travelling, tranquility
Visitors to Yokohama love: harbours, sightseeing, city walks
Find your best hotel
Tickets are back on sale!
Tickets for all RWC2019 games are now on official re-sale. First-come, first-served (expect to queue when booking!).
Buy tickets HERE (good luck!)
This service is for those who, under unavoidable circumstances, will not be able to use the originally purchased tickets to resell them through official channels.
Note: tickets that are not purchased via an official RWC 2019 website will be refused entry to the match.
This is the first time the tournament is held in Asia. It's also the first time consecutive tournaments have been staged in the same hemisphere, and also the first time that the event takes place outside the international rugby union team countries.
Best SIM cards for Japan
With more than 400,000 visitors predicted to come to Japan, SIM cards are expected to sell out completely for the Rugby World Cup. Order your SIM now with free delivery or free pick-up in Japan.
Are you…
Visiting Japan for the RWC?

Need data to get rugby scores, find the stadium, find your mates in the crowd?

Like FREE beer?
...introducing the best SIM cards For Japan with Exclusive RWC 2019 Supporter Bundles.
Who else gives you a free beer with your Japan SIM card?!
The Real Japan has joined forces with Mobal - a leading supplier of SIM cards in Japan - to offer you the perfect SIM for rugby fans.
Free beer SIM card offer!

With a Japan SIM in your phone you can easily find nearest big-screen to watch the match, keep up with the scores, find the best transport links, translate phrases and menus - and update your social media account with your awesome photos of Japan.
Buy your SIM today and get Mobal's FREE RWC Supporters' Bundle with FREE Beer, FREE fan headband and FREE Rugby World Cup Fan Guide.
Plus, get free access to 400,000 WiFi hotspots around Japan to supplement your data usage - and save lots with discount vouchers for shopping and travel perks.
Order now to get all of these benefits.
FREE Worldwide Shipping & Pickup in Japan
Discount shopping and travel vouchers included with all orders
Money Back Guarantee
Profits go to Charity
English Language Support
If you're a rugby fan and you've never visited Japan before - this will be the best chance you'll ever get to explore the land of the rising sun.
Question: Are you coming to the 2019 Rugby World Cup, what's the main question you have about travelling in Japan? Leave a comment below...
All links will open in a new window
Discover Japan - Official 2019 RWC Host Country:
visitjapan2019.com
Official Site of Rugby World Cup:
https://www.rugbyworldcup.com/
Official Rugby World Cup Ticketing site:
https://tickets.rugbyworldcup.com/
Japan Accommodation at Booking.com:
https://www.booking.com/country/jp.en-us.html
Get our SIM card deal:
Buy your Mobal SIM today
Get the ebook:
How to Travel in Japan Without Speaking Japanese
Found this article helpful? Please share this image: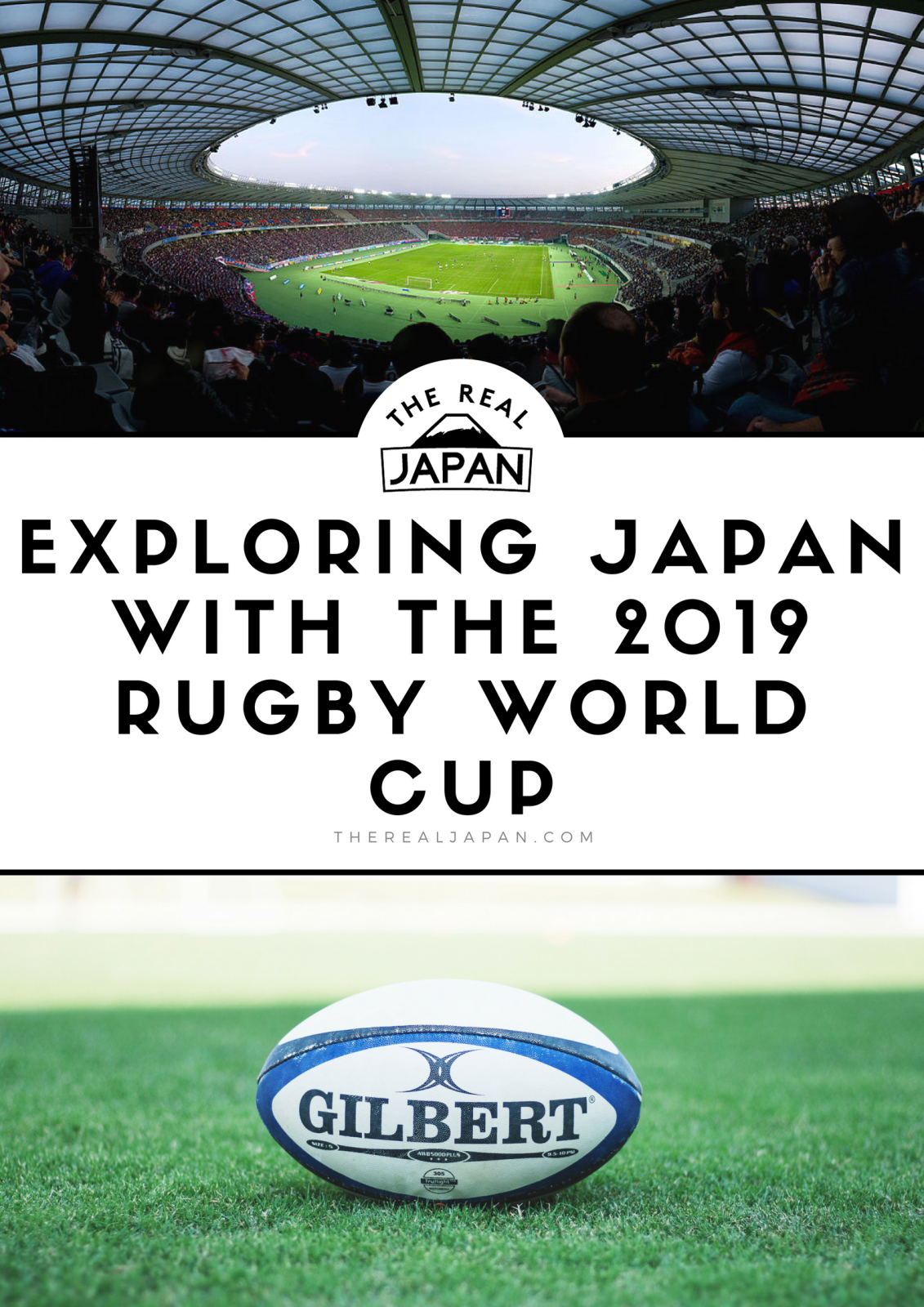 Planning A Trip To Japan?