​

"Itako - also known as ichiko (市子) or ogamisama (男神様), are blind women who train to become spiritual mediums in Japan. Training involves severe ascetic practices, after which the woman is said to be able to communicate with Japanese Shinto spirits, kami (gods), and the spirits of the dead.
Itako perform rituals tied to communication with the dead and divination. The practice has been on the decline, with only 20 living itako in Japan, all more than 40 years old." - Wikipedia.org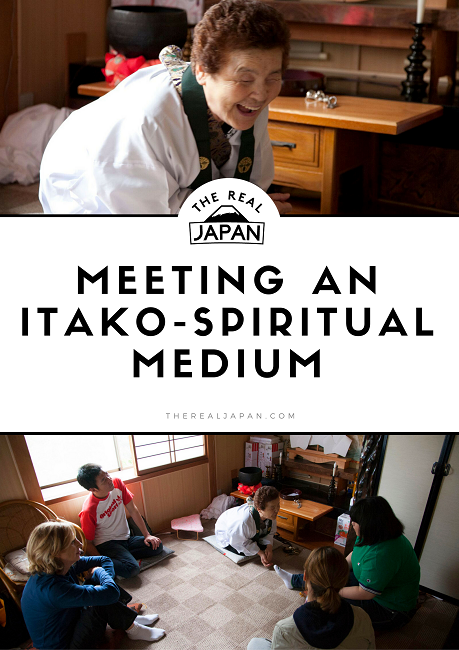 by Marianna Zetta of Japan Soul Traveler
Shinkanesen to Mutsu
The arrival in Mutsu province after a week in Tokyo can only be described as a shock.
Visual, first of all. The trip entails three train changes, that give the feeling of slowly leaving modernity behind; once you get off the shinkansen in Hachinohe (roughly three hours from Tokyo), you get on a local train, romantically smaller and older, until getting on the last, tiny two-coaches train that will finally lead you to Mutsu.
In a lonely place
In some way, also the view follows the same trajectory, as if it slowly strips out of all that is modern and contemporary. Until you arrive in Mutsu, a city that can't be qualified as small, but whose exact dimension is quite hard to grasp, and whose outline seems spread on too much territory, like to few butter in bread: the result, desolation.
Desolation that translates in the feeling of being alone in a lonely place. A place that only partially discovered the lights of the blinding modernity of Tokyo, of the various kombini (open 24/7), and the huge depato (department stores) that seem strange oasis in the nothingness.
Tokyo too is quiet. But here the silence is different. It is the silence of the faraway.
The rest is silence. It should not surprise me, after all Tokyo too is quiet. But here the silence is different. It is the silence of the faraway.
My first meeting with an itako
After resting our bones in one of the western-style hotels, we head for a place to eat, and we stumbled upon a small alley that seems a set of a Rumiko Takahashi's manga, with small pubs, narrow passages between the houses and curious cats waiting in front of the restaurants' kitchens.
This is the night before my first meeting with an itako, Nakamura-san. I have very mixed feelings: I am anxious, first of all, but I think this is normal with all the expectations growing in the years, and with the little experience I have. I have loads of doubts about my ability to manage the situation, and the terror of emerging a poor figure. I have my questions ready, but I have no idea what kind of person I will meet.
How To Travel In Japan Without Speaking Japanese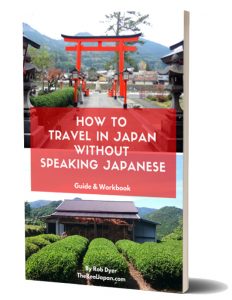 One of the major considerations with travelling in Japan is the inscrutable Japanese language.

A seemingly incomprehensible, often kaleidoscopic, barrage of cryptic symbols awaits the foreign traveller who doesn't speak or read the language.

I've been exploring Japan since 2000 and I've picked up plenty of tips along the way.
I've distilled 19 years of my experience into this ebook for you.

This practical Guide and Workbook covers all the essential basics you need to ensure your first (or next) trip to Japan is as Amazing as you deserve it to be.

Preview what's inside by CLICKING HERE.
The figure of a little old lady
The day after, after meeting my interpreter, we take the car and head for the itako's house. The luxury car leads us with the navigation system among the various city streets. A city which seems huge judging by the time employed to reach our destination. Slowly the city thins out, and we venture in the mountain areas. Finally we reach our destination.
The house is small and clean, even though I am too excited to notice all the details right away. Aya, my interpreter, steps forward and knocks at the door while we stay back unloading our equipments, and maybe our courage.
She can not see, she is completely blind, her eyes are wide shut but her smile is immense.
As I walk to the door, I see the figure of a little old lady, small in height, with with short dyed hair carefully combed, with a with robe perfectly clean. She cannot see, she is completely blind. Her eyes are wide shut but her smile is immense. Open, simple. I can not believe this is she, and yet she really is the itako I searched for a long time.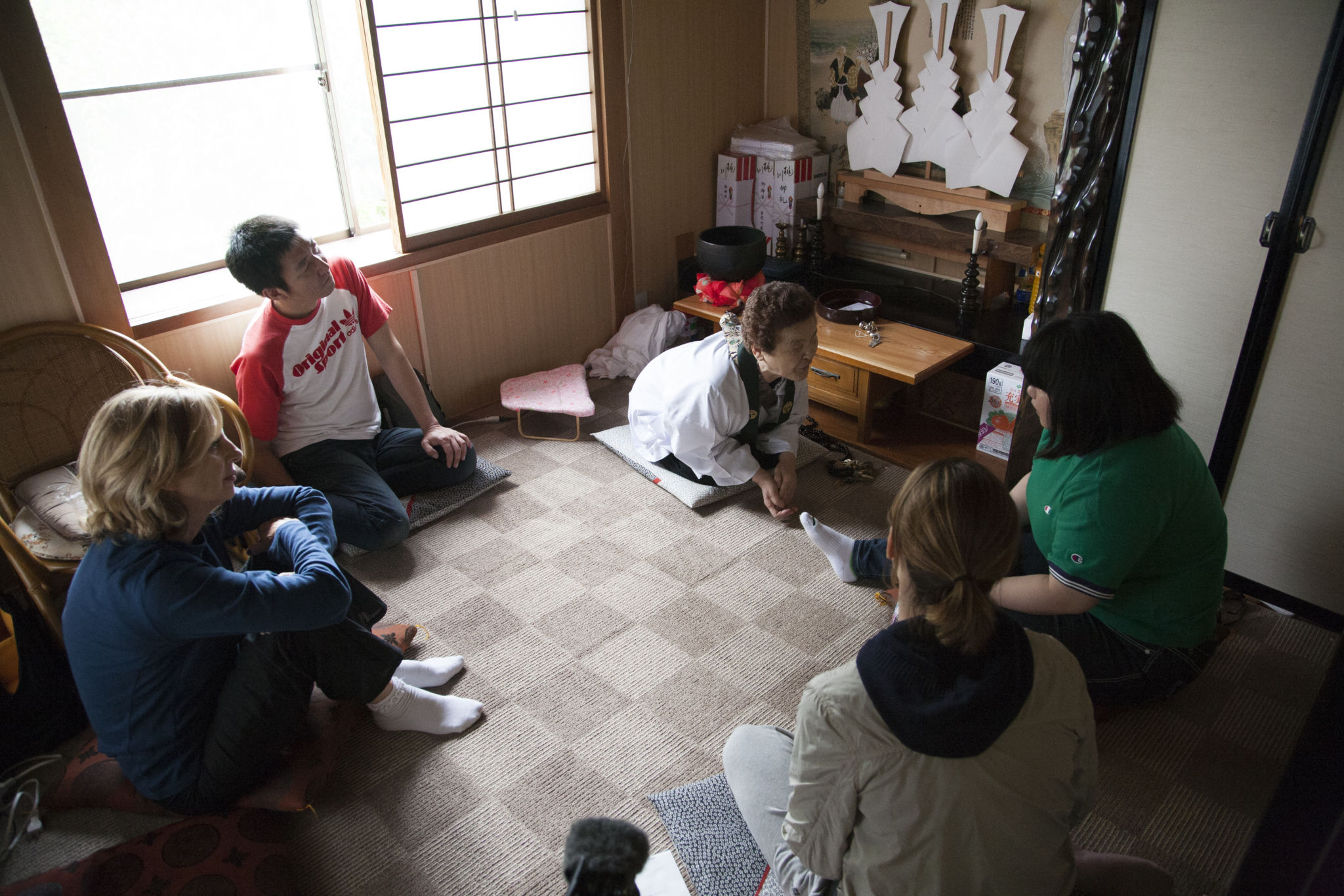 Entering a sacred place
As Aya explains us, Nakamura-san is inviting us in. We enter her house with the deference accorded to a sacred place, while she and Aya keep talking. I don't have enough time to take a deeper look at the inside, but it clearly looks like a traditional Japanese home, with sliding doors following one another through the hallway.
Nakamura-san leads us to a particular room in front of the entrance, where a recess is filled with an altar around with several objects are scattered (trading tools among the others), while food and beverage offerings from clients create a striking contrast.
The tone changes slightly, giving space to the words of the deceased who speaks through the shaman's voice.
Once we take our places on the tatami floor, Aya begins to explain Nakamura-san the reason for our visit; the dialogue is sometimes interrupted by Nakamura's amused laughter, and her undeniable hearing difficulties.
We manage, however, to explain our work and our plans, and she accepts to perform a kuchiyose (a ritual for calling the dead) and to answer some brief questions.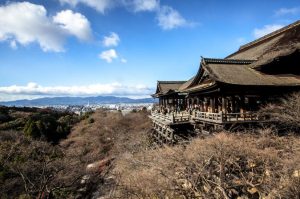 Take a deep dive into the history, culture and practices behind Japan's two primary religions, Shinto and Buddhism, on this small-group tour of Kyoto led by a local scholar.
Gain new insight into how these two twin pillars of Japanese spirituality first started in Japan as you explore the most important religious monuments of Kyoto and hear how these two practices have evolved over time.
3-hour Kyoto walking tour with a religious scholar
Stroll through the Gion district with your local guide to Shinto shrines and Buddhist temples
Learn the meaning of the gates and halls at the Shinto Yasaka Shrine
Visit the UNESCO World Heritage-listed Buddhist temple of Kiyomizu-dera
See the Dharma Hall and Abott's Quarters at Kennin-ji
Discover daily rituals of Buddhist monks and spiritual seekers
Small-group tour with a maximum of 6 people ensures a personalized experience
Read more about Scholar-led Kyoto Walking Tour: Religion in Japan
During the whole dialogue among the two women, I can't stop looking at Nakamura-san.
She sits in the typical Japanese way, and she is bended towards Aya, in order to better understand her words, she keeps her hands one over the other, with a femininity that touches me – and that I didn't expected – and she smiles like only the people with a different life can do.
The ritual begins
While I collect all my thoughts, Nakamura-san starts to get ready for the ritual during which she will contact my interpreter's grandfather. She takes the black rosary, wears her white robe and drinks a sip of orange juice to clear up her throat before the invocation.
She asks some specific information to Aya, and between various and amusing misunderstandings, she finally manages to gather everything she needs to get in touch with the correct deceased.
Then, silence.
Gong. End of the silence. The ritual begins.
Speaking with the dead
A long monotonous tone, through which she summons various deities to help her contacting the ancestor. Prayers to make the deceased accept to speak with the granddaughter. Then, the tone changes slightly, giving more space to the words of the said deceased who speaks through the shaman's voice. Prayers, gratitude, memories and remembrance.
The ceremony lasts for half an hour. It is longer than I expected, considering that it was the deceased that for the most part spoke in a long monologue to his descendant.
At the end, we wait for some minutes of pleasentries and thanksgiving, then, since Nakamura-san seems still in the mood to continue with the interview, I give Aya a note with some questions, and we begin.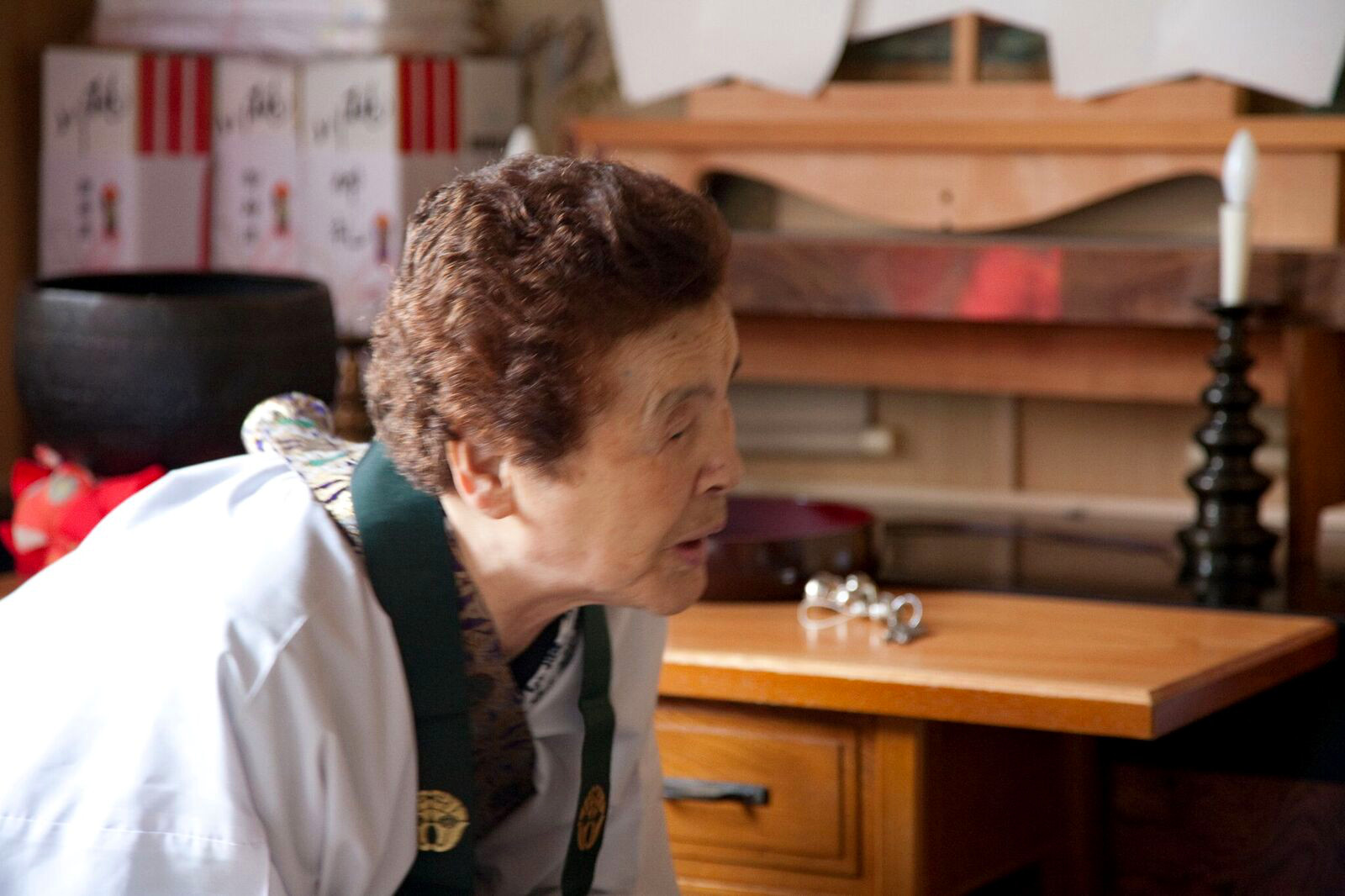 Chatting with the Shaman
The interview is pleasant. Nakamura-san gives the impression of craving to tell her story, and she reports an in-depth account of her childhood and her initiatory experience. We try to push our questions on a more philosophical level, but the feeling is that this is not her favourite ground, and her answers are more fuzzy.
Who knows if this is an effect of her personal feeling, a general indifference for the subject or simply ignorance about the topics. She focuses her recount on her private experience, making it through a very funny phone call of a client requesting an appointment, a client that she dismisses with kind speed.
The next clients are already at the front door, and by the way they move, they don't seem too happy to see her shaman chatting with us; yet it is difficult for us to stop her. In the end, we can't but thank the old lady who has been so friendly with us, and we take our leave, letting her go back to her job.
We come out, and we take the car looking for a cafè to relax and talk about the meeting. I am happy and peaceful and, like Nakamura-san, I can't stop smiling.
You might also like: Reflections on The Mountains of Central Japan
Author Marianna Zanetta runs Japan Soul Traveler – a niche travel blog, dedicated to Japan curiouses and enthusiasts who wish to discover different aspects of this amazing culture, focusing on Spiritual and Folklore Travels around Japan.
All photos by Edmondo Perrone

What are your views on the subject of spirituality, shaman and contacting the dead? Have you had any similar experiences? If so I'd love to hear from you. Please leave a comment below…
Join a Growing Community of Travellers!
Sign up for my biweekly bulletin today, download your copy of my Guide to Amazing Adventures in Japan, receive access to my free Resource Library and Private Facebook Group.