I'm a big fan of mobile messenger app LINE.
Partly because it has an excellent user interface and means I can make free international voice or video calls to other LINE users over the internet.
And partly because its range of characters is just so damn kawaii (cute)! :-D
LINE Friends Stores Are Awesome!
by Rob Dyer
I prefer LINE to Facebook Messenger as it is far less intrusive in the personal data it requires to function. If you're not already familiar with the LINE app you can check it out here.
The range of characters in the LINE universe is diverse and sometimes odd. But there's a bunch of super cute characters at it's core. They are:
Brown – a silent brown bear, has a crush on Cony
Cony – a friendly female rabbit
Sally – a yellow chick, likes helping her friends
James – a narcissist man, with long, blonde hair
Moon – a manjū-shaped-headed man, loves the moon
Boss – a balding, middle-aged company boss man
Jessica – a black and white female cat, likes cooking, is Cony's best friend
Edward – a short green worm, wears a red cap
Leonard – a small frog boy, looks up to Moon
Choco – Brown's sister, likes wearing bows in her hair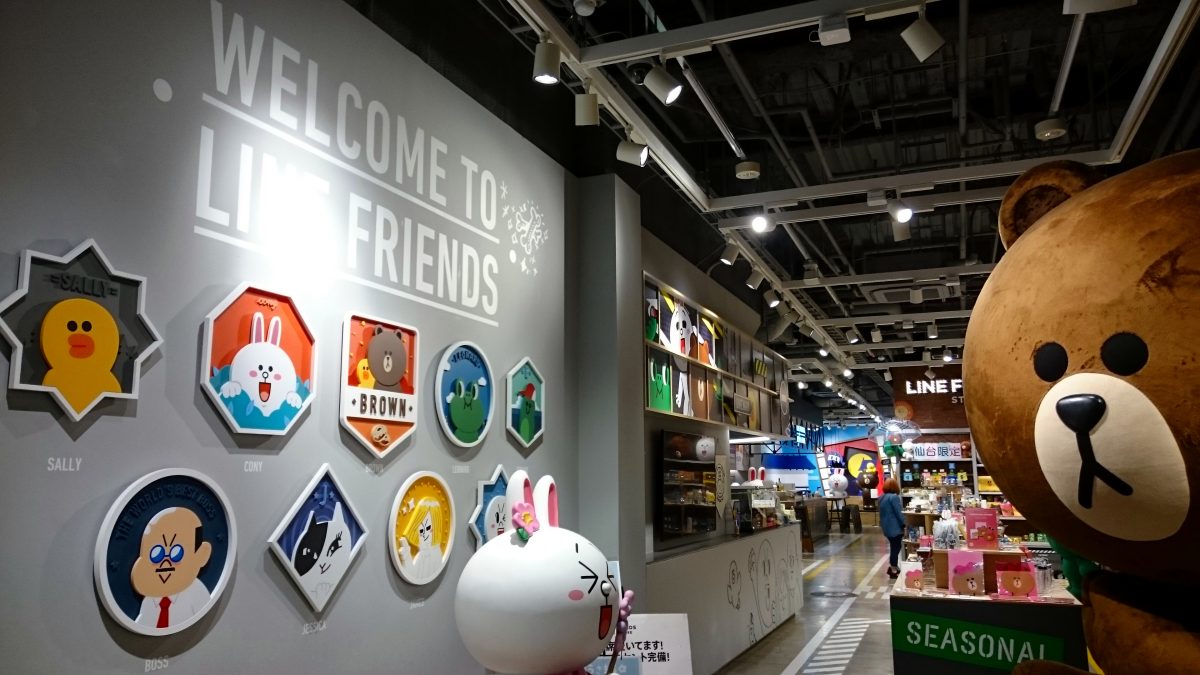 The LINE characters are famous throughout Japan, made popular in an animated TV show and series of mobile games. There are millions of users of the services across the far east.
(The parent company that owns the Line Corporation of Japan is actually Korean.)
As part of their brand building the company has opened a number of LINE Friends stores – but only three of these are in Japan, in Tokyo (of course!), Fukuoka and Sendai.
LINE Friends Store on Amazon:
LINE Friends Store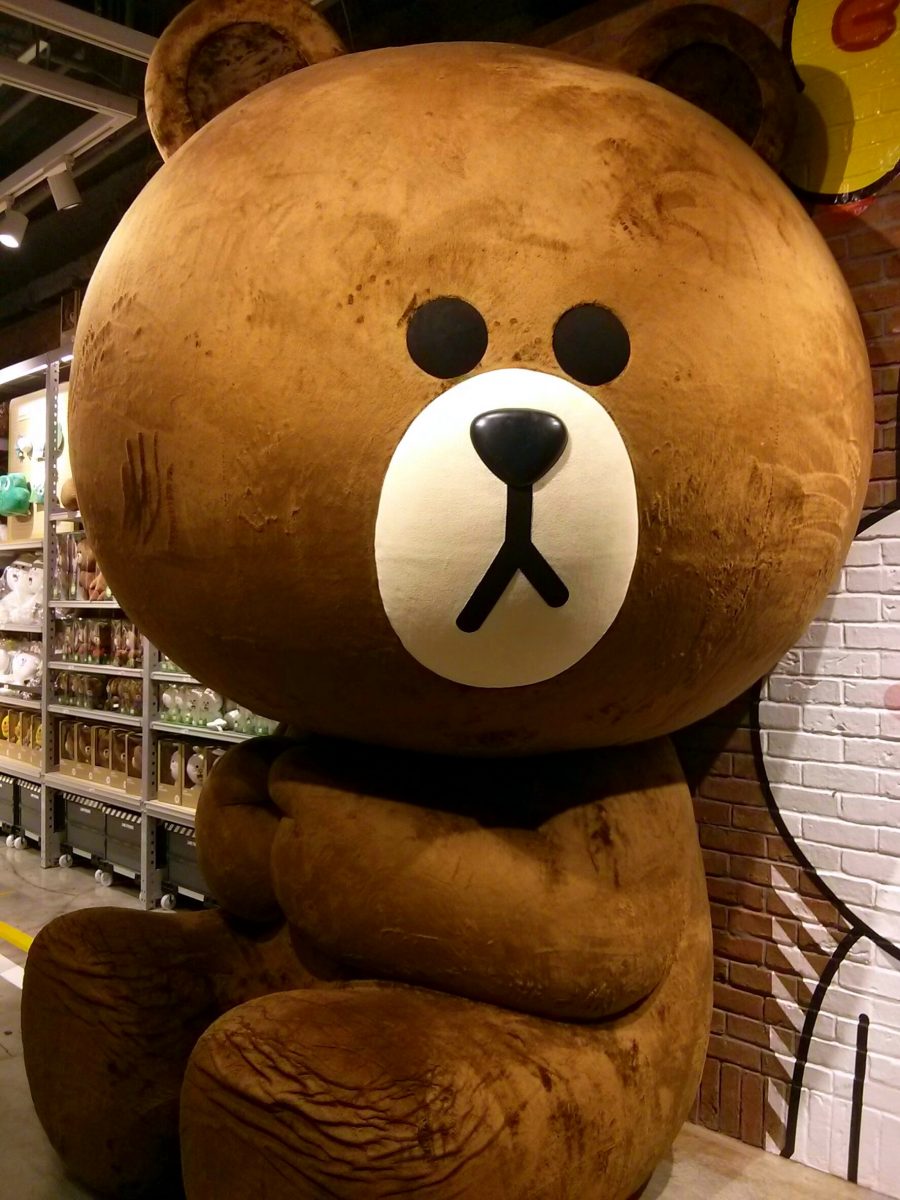 The newest store is the one in the city of Sendai, in Miyagi Prefecture, on the main island of Honshu, which I recently visited.
I'm not sure why Sendai was chosen as the location within Japan for the third store, but Sendai is a colourful and vibrant city – well worth visiting, even if there were no LINE Friends store. ;-)
Top 100 places to stay in Sendai
Located inside the main central shopping arcade, the store includes a cafe where you can sup on LINE Friends milk and eat LINE Friends chocolate bars. At the entrance is a huge, plush Brown figure – around 10 feet/3 metres tall.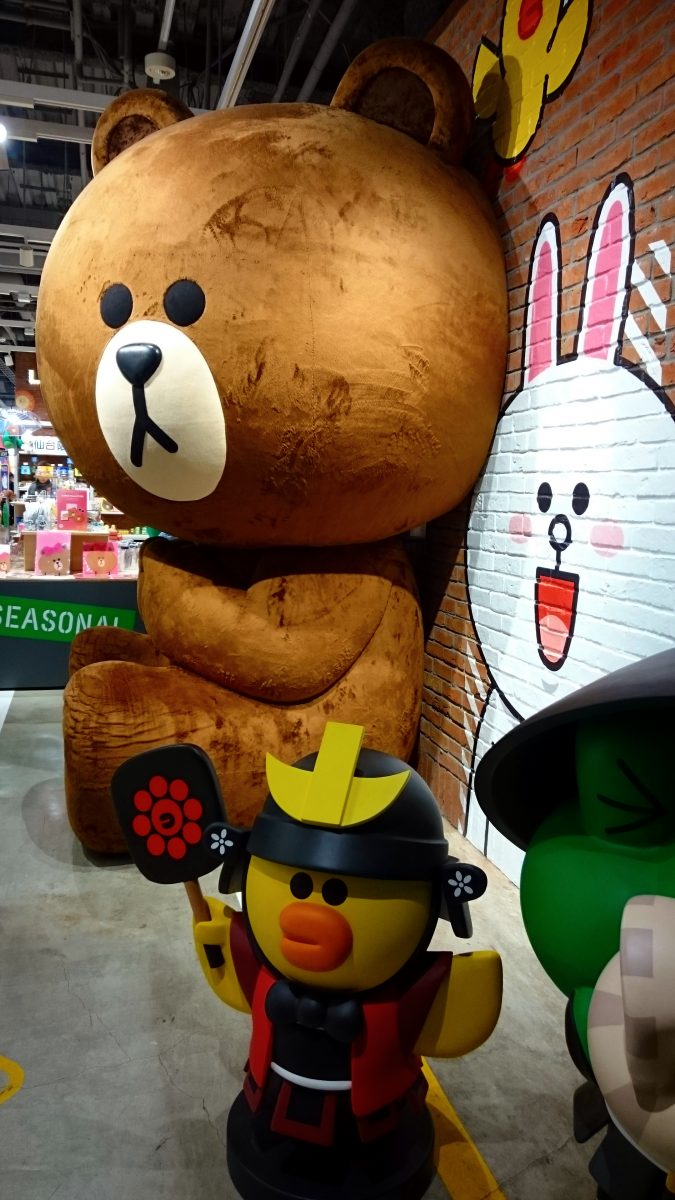 There are more (I'm not sure they can be referred to as 'life-sized'!) figures of Brown, Cony, Sally, et al.
There's also a Brown (and a Sally) kitted out in the samurai armour in honour of Doku-Gan Ryuu – the Sendai mascot. It's photo-opportunity heaven!
For the avoidance of doubt, there's a sign inside saying "Photos OK!", so that visitors (a large proportion of whom are likely to be LINE users) can readily take shots of them alongside their favourite characters and immediately post them on social media.
Not least sharing them with other LINE users who, if they're not lucky enough to have visited any of the stores, will be green with envy.
Can't come to Japan to vit the LINE stores? No problem. Check out the official LINE Friends Store on Amazon.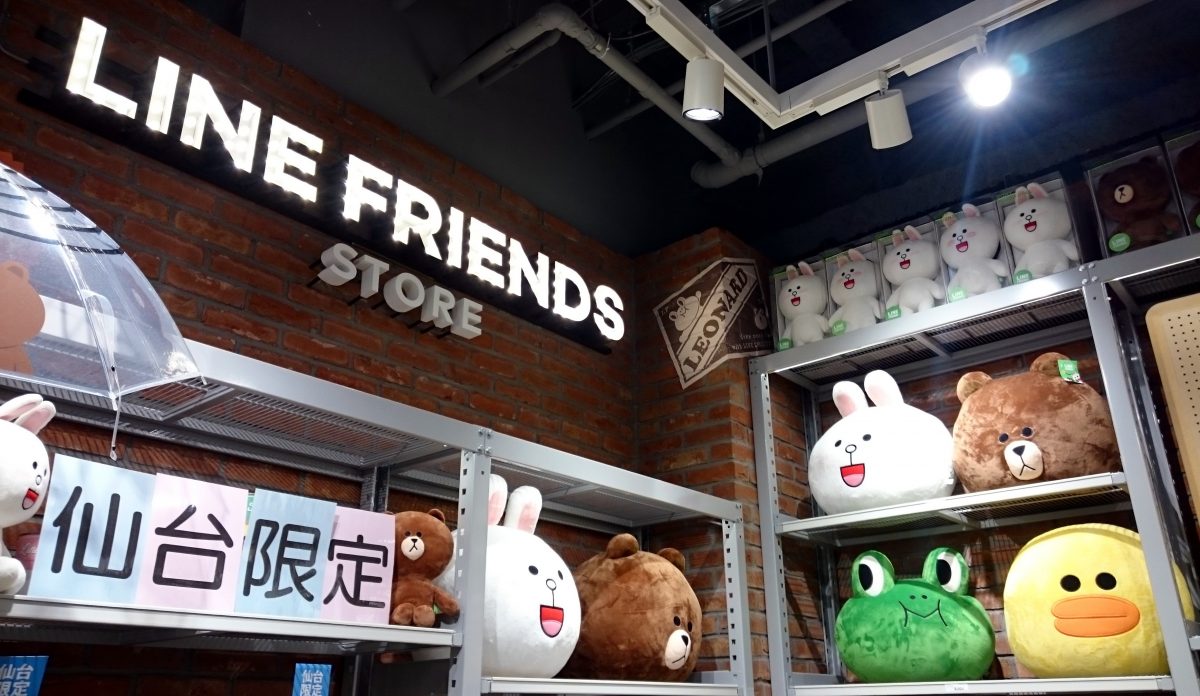 I wished we could have spent more time in the store than we did. But we came across it by chance shortly before it was closing for the evening and we were heading onwards from Sendai on a morning train.
Rather incredibly we also came away not having made a purchase. In part, due to the time pressure, but also because so much (ie almost too much) of the stock was tempting. It would actually have been easier to buy something if there wasn't so much good stuff. As it is, it's almost overwhelming.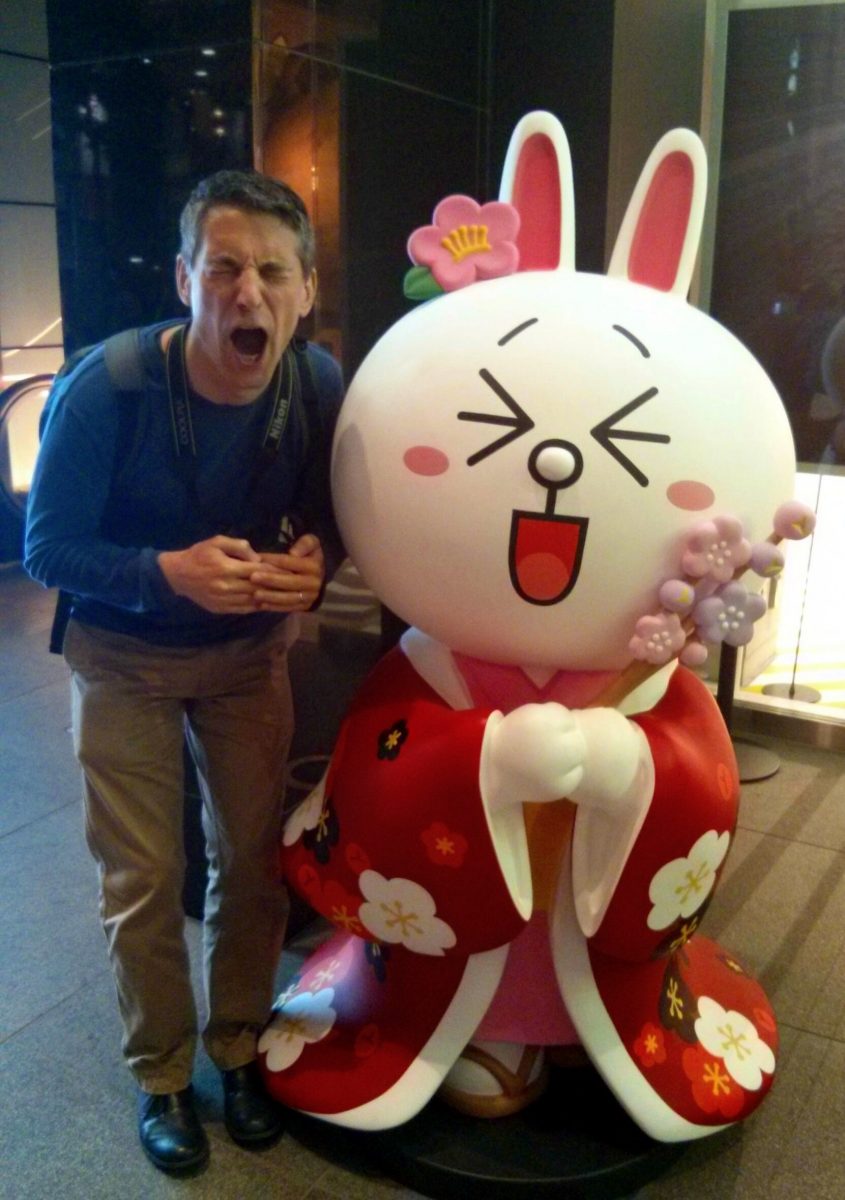 For afficianados, it's worth noting that the store sells products that are not available anywhere else. A real incentive for fans of Brown, Cony, Sally, and friends to visit the physical stores. In addition to incredibly tempting merchandise, this sote (and the one in Kukuoka) also have a small cafe.
You can easily spend a small fortune of you were so inclined. But there are items across the price range, ranging from character chocolate bars through to huge, plush figures of each of the major characters.
Whether you are into LINE Friends or not, I'd still recommend it as a place to visit. The characters are ridiculously cute and the quality of the goods was extremely high.
LINE Friends Store on Amazon:
LINE Friends Store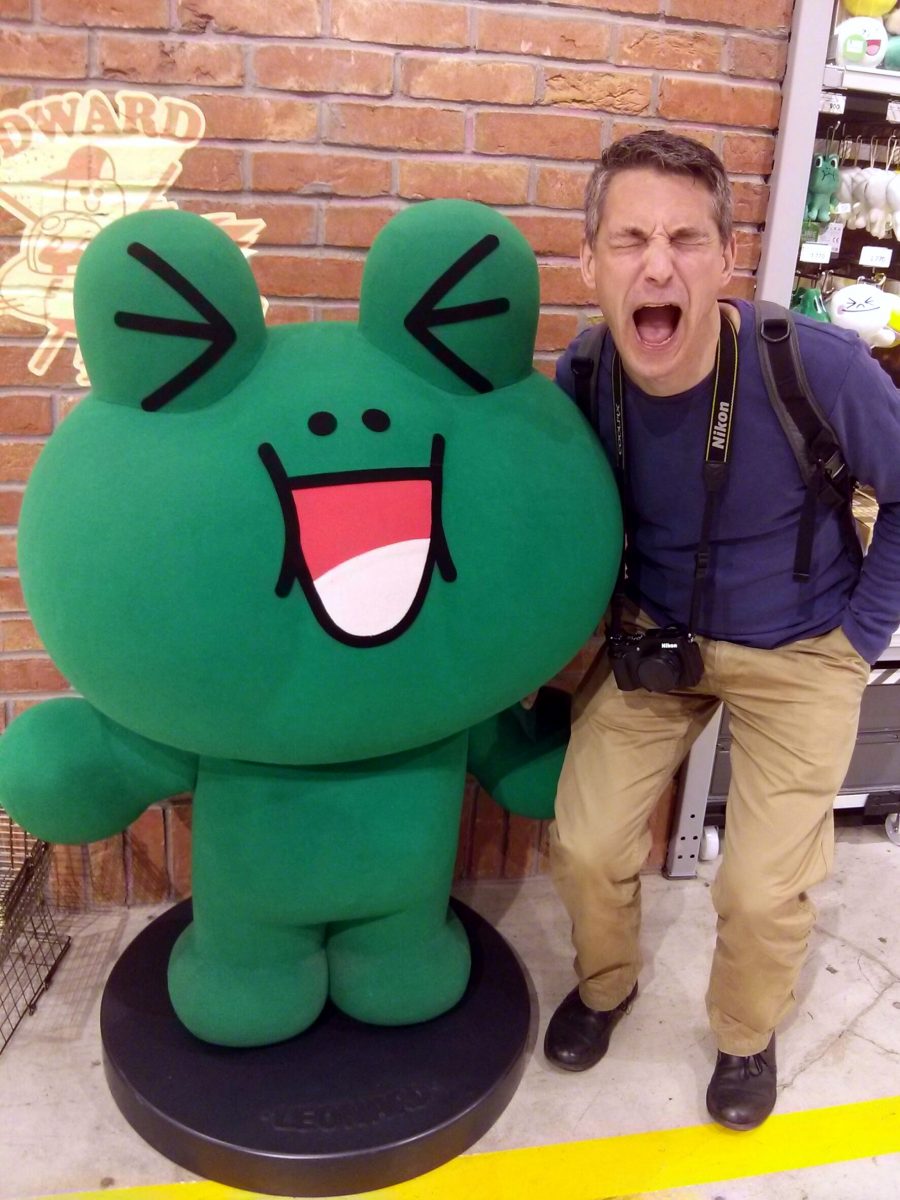 There was no cheap cashing in going on here. If you came away with your own Brown, Cony or Sally milk bottle(!), cushion, or large plush figure, you'd certainly get a quality souvenir for your money.
I only wish I'd grabbed a mug before leaving. :-(
I don't often get very animated with it comes to shopping (it's far from my favourite pasttime when travelling). But if you're a sucker for cute characters, beautifully conceived and designed souvenirs, made to a top-notch standard then you should visit a LINE Friends store when you are in Japan because they are definitely, absolutely awesome!
Can't come to Japan to vit the LINE stores? No problem. Check out the official LINE Friends Store on Amazon!
LINE Friends Store on Amazon:
LINE Friends Store
LINE Friends Cafe & Store Sendai:
〒980-0811 Miyagi Prefecture, Sendai, Aoba Ward, Ichibancho, 3 Chome−8−8 一番町ステア
Accommodation in Sendai:
Top 100 hotels in Sendai
Location Map:
LINE Friends Store Tokyo:
〒150-0001 Tokyo, Shibuya 神宮前4丁目32−13 JPR神宮前432ビル
Accommodation in Tokyo:
Top 100 hotels in Tokyo
Location Map:
LINE Friends Cafe & Store – Fukuoka:

Accommodation in Fukuoka:
Top 100 hotels in Fukuoka
Location Map:
The official LINE Friends online store is only available in Korean but it is possible to browse it in English HERE. Alternatively, check out the official LINE Friends Store on Amazon!
Are you a LINE Friends fan? Which is your favourite character? Have you been to any of the stores? If so, what goodies did you buy? Let me know by leaving a comment in the box at the bottom of the page…
Join a Growing Community of Travellers!
Sign up for my Japan Travel Bulletin today, download your copy of my Guide to Amazing Adventures in Japan, receive access to my free Resource Library and Private Facebook Group.