Japan Matsuri, Trafalgar Square, London, UK
It's that time of the year when the leaves are turning red, even in central London. So it must be time for the UK's premiere Japanese festival - Japan Matsuri.
This annual event provides the ideal opportunity to sample Japanese culture in its many forms.
From traditional crafts and martial arts, contemporary performances, alongside music and dance, there are, of course, always plenty of chances to sample Japanese food.
Photo opportunities with NHK World mascot Domo proved, unsurprisingly, popular this year!
See the opening ceremony with Mikoshi (palanquin or portable shrine) procession, Eisa and Bon Odori dancers and the Nodojiman karaoke contest.
This year was blessed with perfect weather and the crowds steadily grew as the day went on. Enjoy your day in the London sun with Japan Matsuri.
Were you at Japan Matsuri? Have you been to a matsuri in Japan? Please leave a comment below!
And One More Thing…
If you liked this article and film you might like to subscribe to my YouTube channel HERE.
Be sure to hit the bell icon to get notifications of all new posts!
I post a new inspirational video every Friday.
Location Map:
Are you on Pinterest? Pin this! ↓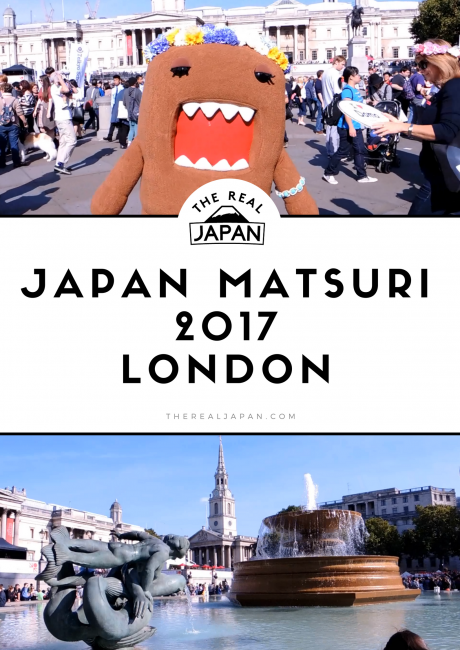 Get a FREE Guide to Amazing Adventures In The Real Japan: http://buff.ly/1qjt6fe
Share this film: https://youtu.be/kqXtJHRKoKE
Get more inspiration - Subscribe YouTube ► http://buff.ly/1PAYGcZ
Planning A Trip To Japan?


Sign up for our Japan Travel Bulletin, download your copy of our Guide to Amazing Adventures in Japan, receive access to our free Resource Library and Private Facebook Group.