Free mini-course includes free Workbook & Checklist!
How long have you had 'Plan my dream trip to Japan' on your wish list?
Probably a while!
Well, every day that your plan isn't in place is a day you put back, delay, even abandon your dream of travelling to or exploring more of Japan.
So I want to get you up and flying off to the land of the rising sun as quickly as possible!
Each module of our mini-course includes a short, actionable lesson on designing a plan for travelling in Japan that's tailored to meet your specific needs.
Not some generic, off-the-shelf package vacation.
In just 4 short modules you'll have developed your own, personalised travel plan, which will ensure you have the best possible trip to Japan you can imagine!
Click link below to Enroll on the Course for Free!
Please SHARE!
Your. Guide. Is. Awesome!!! I love Japan. I love its language and its culture and its people. Your guide really brings us to the core of the real japan, the one below the surface, the one where true encounters with people and culture are possible. This is definitely how I want to travel to Japan. Thank you for bringing all these great ideas to us.

– Josiane Roulez, NipponCafe.com
If you have any ideas for future courses you'd like to see, or if you've taken this free mini-course I'd love to hear your feedback! Just leave a comment in the box below…
Enjoyed this article? The please share this image on social media!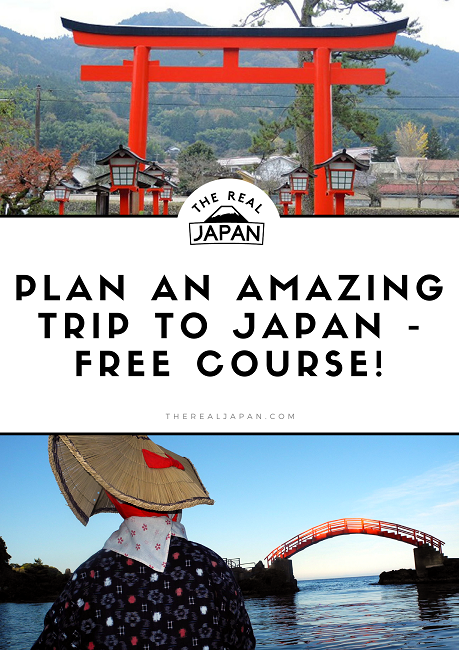 I've written a detailed guide including links to websites and resources so you can plan and book your own adventures in The Real Japan.
If you'd like to download your copy, just pop in your email address to get instant access to my Guide To 5 Amazing Adventures in The Real Japan.