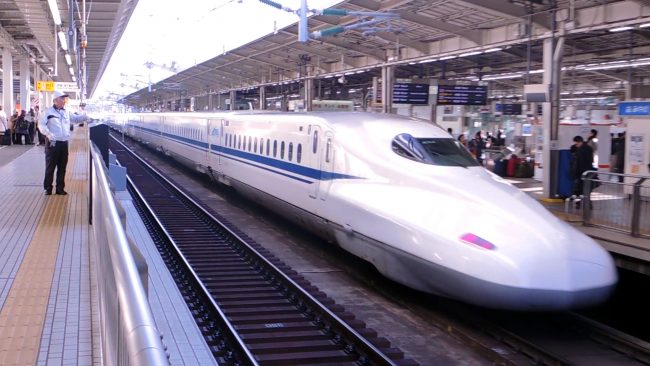 The N700 series is a Japanese Shinkansen high-speed train with tilting capability developed jointly by JR Central and JR-West for use on the Tokaido and Sanyo Shinkansen lines since 2007, and also operated by JR Kyushu on the Kyushu Shinkansen line.
In this short film shot at Shin-Osaka Station we travel up the escalator to walk along the platform to view a N700 bullet train preparing and then departing the station.

Location Map:

Get a FREE Guide to Amazing Adventures In The Real Japan: http://buff.ly/1qjt6fe
Share this film: https://youtu.be/ETQmfoUQxuc
Get more inspiration – Subscribe YouTube ► http://buff.ly/1PAYGcZ
If you're really serious about discovering and exploring The Real Japan, I've personally put together a free Guide to Amazing Adventures in Japan that you really need to get a copy of.
In this guide I cover 5 (actually there's 6 – but don't tell anyone!) unforgettable adventures in Japan, spanning the northern most and coldest island of Hokkaido, through the main island of Honshu, and down to the sub-tropical southern island of Okinawa. What's more, 2 of those amazing adventures are completely FREE – so won't cost you a penny!
If you'd like to download your copy, just pop in your email address below to access your copy of my Guide To 5 Amazing Adventures in The Real Japan.